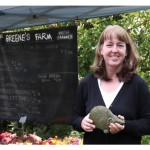 by Ed Johnson, photos by Ed Johnson
Maintaining a garden is certainly easier for those who are not nine-to-fivers.Indeed the last four episodes of backyard gardeners in SVO have all been retired people who had the luxury of spending as much time as they wish on whatever they enjoy.
The situation is slightly different for Ben and Bernadette Greene of North Saanich. With a growing family, a mortgage, Ben a full-time teacher, and Bernadette working two part-time jobs as a church musician and a corporate coach you would think that there would be little time for a garden. But for Bernadette, the pull to get her hands in the soil is strong and she loves to challenge herself to see what can be produced from their one-acre property.
Bernadette began with cut flowers, a favourite crop of hers. "I soon I noticed our two young girls loved to go out to the small vegetable patch to feast on carrots, chives, parsley, and whatever else was in season'" she recalls. "Their friends loved to graze in the garden, too." The light dawned, and Bernadette realized how many more vegetables their girls would eat when they could pick them themselves! – More vegetables and fruits were added to the Greene's garden.
When the garden produced more than the family could possibly eat, Bernadette took a friend's suggestion and began selling at the local farm market in North Saanich. She went on to branch out into other markets, as well as selling to local restaurants. "I have been fortunate to connect with a local chef who occasionally has a specific request for vegetables which I grow just for him," she adds.
In the spring, Bernadette has a plant sale that includes thousands of vegetable starts, tomato plants, perennials and herbs. "I especially love propagating plants," says Bernadette, "and now have some loyal plant sale customers who come back year-after-year when they're putting in their vegetable gardens in the spring."
Bernadette's parents, Konrad and Els Welle, emigrated to Canada from Holland in the 50's to grow freesias. In the beginning, they shipped these across North America, before branching out into other flowers. Bernadette and her five siblings were expected to help out in the greenhouses, and over time, the family nursery grew to cover nearly four acres and employ forty employees during the peak season. In their family's photo album is a picture of Princess Diana holding a bouquet of flowers provided by her father on the occasion of her visit to Victoria in 1986.
The Greenes bought the family home and property from Bernadette's mother in 2004. They immediately began to expand the gardens that her parents had lovingly planted. The market garden portion is positioned where one of the large commercial greenhouses used to be. Around the house are many common and uncommon specimens of flowers, shrubs and trees that contribute to Bernadette's garden palette. One tree in particular always becomes the centre of attention in the fall when its seeds ripen inside paper husks resembling a large round cherry fruit. Known as Koelreuteria paniculata, or the Golden Rain Tree to mere mortals, it is featured in the online video following this article.
Maintaining the garden makes for a busy life and Bernadette has had to make some compromises to make it work. "Although I freeze, dry, and juice what I can for the winter months, I don't have time in the summer to do a lot of canning anymore. While I do grow some winter vegetables, it is more efficient for me to buy organic vegetables when I need them in the winter with the proceeds of sales during the summer."
One thing you won't find on her farm is broccoli, however. "I've eaten enough broccoli to last me a life time," she laughs. She has this trait famously in common with a certain U.S. president.
"Broccolini, though – that's another story."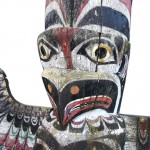 by Judy Barlow, photo by  Ed Johnson
Where do old totem poles go to die?
That's a trick question.
The answer, of course, is "Nowhere."
Unless it's in Central Saanich; then it's anyone's guess.
The five-foot Chief Thunderbird memorial totem was erected outside the municipal hall in August 1969, honouring Tsartlip Hereditary Chief Thunderbird, Jean Baptiste Paul, a champion professional wrestler who travelled the world and hobnobbed with royalty. The Chief has served as an inspiration to generations, especially among First Nations youth. 
Early settlers mistakenly viewed totems as pagan religious icons. Not so. They are venerated as monuments, representing and commemorating ancestry, histories, status, people, or events. 
A totem can last 100 years – even longer today with protection and treatment, according to master carver Carey Newman. 
But what if a decaying totem puts passersby at risk? 
According to a 2014 staff report, a 2003 assessment determined that the pole's condition had deteriorated beyond the point of rehabilitation. Council was advised to move the original indoors and commission a replacement at an estimated cost between $4700 and $8800. Over the next five years the issue arose repeatedly, with inquiries into funding for preservation, relocation, and/or replacement. 
By 2008 the cost had risen. A supplemental request for $10,000 in funding for a replacement included in the 2008-2012 Financial Plan was defeated. The issue appeared to be in limbo. 
Until 2014, after a complaint in May, staff prepared a report with recommendations. On July 7, after considering an estimated replacement cost in excess of $15,000, Central Saanich Council elected to remove the totem. 
That should be the end of the matter, right?
Not really.
According to the official video log, Councillors Garrison and Jensen moved and seconded that Council adopt staff recommendations 1 (removal) and 2 (photo/plaque in the foyer). 
Councillor King asked about the relocation of the totem. 
Staff was stumped. 
Apparently, having deciding upon removal, little if any thought went into, "And then what?"
With no relocation plan, Councillor King, who grew up in Alert Bay surrounded by totems, spoke out against its removal. When it became clear that the vote would proceed without further delay, (despite the fact that neither Tsartlip nor Tsawout had been consulted), King asked to sever the motion, voting first on the removal of the totem, and then on a display in the foyer. 
While the video log clearly shows Councillor King's sole opposition to the removal of the totem, the official minutes tell a different story, stating that the motion passed unanimously.
And so Central Saanich is now faced with the unenviable task of answering the question, "What does one do with an old totem pole?"
"The traditional practice with totems was to let them fall to the earth and go back to where they came from," says Carey Newman. "So it's a new question to determine what to do with a totem when it becomes a potential hazard or risk."
Unfortunately, it's a question bound to come up again. A totem can take months to carve. Accordingly, they're not inexpensive. Commissions for poles today often come from corporate or civic entities, who perhaps appreciate artistry more than cultural significance. Ironically the Saanichton Village Association itself could serve as an example of a typical client, with its recent commission of four new welcome poles at a time when the municipality hasn't figured out yet what to do with the old one. At some point future councils will be forced to revisit the issue. How today's council handles the culturally sensitive situation will likely serve as a blueprint for future action.
There might be a solution here.
Although totems traditionally disintegrate in place, it's not unheard of to move a pole. The famous collections in Vancouver's Stanley Park, Victoria's Thunderbird Park, and the UBC Museum of Anthropology were relocated from all over BC. 
Newman tells of a totem given by his family generations ago that after consultation was relocated to the U'mista Cultural Society in Alert Bay. "But it was a different situation because it had been kept in a protected environment." He adds, "It wouldn't make me happy if it was my family that had carved the totem and it just came down and a photo put in its place. And it may be that it's time to come down and if that's the case, then have a proper discussion around what's to take place."
Is that the answer for Chief Thunderbird?
If so – where will it go?
And not to be crass – but who's paying for it?
Is this an election or simply a performance review?
by Michele Murphy, photos from Facebook
When there is an issue on the table that is likely to make a significant difference in the pocketbook of the electorate, they are more likely to show up to vote.
While Saanich's Nov. 15 municipal election may not enjoy the same turn-out that Scotland's did (84.5% for those of you that missed it), and its issues may not be as big as forming a separate country (Republic of Saanich?), Saanich may be facing larger concerns than it has in the recent past – and as such – attract a larger voter response – or will it?
"The major issues were just starting to brew last election," says Saanich mayoral candidate Richard Atwell. "They have now become the focus of this election," he adds.
Mayor Frank Leonard would not comment at this time on whether the municipality faces what he feels are 'big' issues. He did say that he approaches elections as more of a performance review. "The residents and I discuss how I have worked with Council and the community to achieve our goals," he explains.
When asking Atwell what the major issues in Saanich are he responds, "Sewage treatment, amalgamation and CRD governance now take centre-stage. We have reached an impasse on all three and in order to move ahead, we need new faces on Saanich Council. We can no longer keep kicking-the-can down the road."
Saanichites have a history of being ballot-box averse in municipal elections. The 2005 and 2008 elections saw only 19 and 21% of eligible voters show up to make their mark.  Even the 2011 election – an election that saw a significant mayoral candidate come forward to challenge the often-acclaimed Mayor – only saw a minimal improvement over previous elections with 75 per cent of voters choosing to stay home.
The media-of-the-day framed the 2011 campaign that saw retired Saanich South MLA and former (three-times elected) Saanich municipal councillor David Cubberley bid for Saanich's top-job as primarily a popularity contest naming no substantive issues facing the electorate.
Could it be the disinterest in the democratic process was a result of asking the public to play judge in a personality contests instead of thoughtfully considering the actual issues facing their community?
Let's take a look at some of the issues that have been identified:
Sewage Treatment:
Atwell comes to the race as the founder and organizer of both Stop a Bad Plan and The RITE Plan, two organizations that were born out of a frustration with the sewage treatment plan that the CRD has created.
Atwell says, "The sewage project in present form will come with a substantial and long-term tax increase which will ultimately impact everything else that we want to achieve in Saanich. We cannot afford to pass this debt onto the next generation and so we must find a better value solution, but so far no one on council is looking."
Leonard told the Victoria Times Colonist last May that he feels that, "The Capital Regional District should go back to the province for help in finding a solution to its sewage treatment dilemma – only this time it should knock on a different door." Adding that he felt that given the number of years Saanich has been at this and the circumstances it finds itself in, having the government's help to move to the next stage would be worthwhile.
Amalgamation:
On amalgamation Leonard told Saanich Voice Online, "The current campaign to reduce the number of small municipalities is not a debate Saanich need be a part of."
Atwell says that he supports asking the province to study amalgamation. "The public wants to weigh-in with their opinion but so far Mayor Frank Leonard and the rest of Saanich Council have refused to allow even a question on the municipal ballot," says Atwell, adding, "that's undemocratic."
CRD Governance
Leonard was quoted recently as saying that, "The only government bigger than Saanich around here is the CRD, and that doesn't help the bigger is better argument either." Perhaps not a glowing endorsement of our regional problem-solving body.
Atwell feels that the CRD has become dysfunctional with the current players. "CRD decisions affect everything that we do, from transportation solutions to waste management and other infrastructure," says Atwell. "We must find affordable solutions and for that we need new decision makers who can work collaboratively with others to find them."
What issues exist and how Saanich mayoral candidates propose that they will lead Saanich through these issues may make a significant difference both in the lives and pocketbooks of
Saanich residents.  Are these the issues that matter most to you? What more do the candidates have to say? SVO encourages you to check out the candidate's websites, send them an email, attend an all-candidates meeting.
Whatever issues are important to you, getting informed and turning up to vote is your best chance to have your say on them. While there won't be a vote on Saanich becoming its own country there are important issues being decided and you don't want to be left out.
Go to www.saanich.ca/elections for more info on the Nov 15 Saanich elections. Oct 10th will be the closing of the nomination period, at which time we'll know all the candidates.
Meet Patrick Sixto – orchardist extraordinaire
Article and photos by Ed Johnson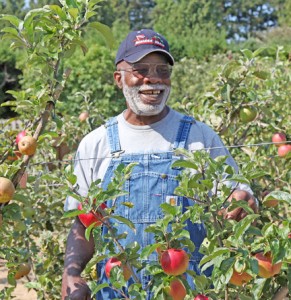 "I don't go out and party too much.  I golf and I garden and that's it." So says Patrick Sixto, retired welder in North Saanich.
"So," I smile, "if it starts with a 'G' you do it."
"Yes, but I figure I had better leave the girls alone," Patrick laughs.
"We will stick to gardening, then."
Patrick's laid back style must come from his childhood in Trinidad where gardening was taught in school and each family grew what they could to supplement their diet.  Patrick's big day came when, as a teenager, he was given his own plot at home to tend.  The staples in his garden were corn and cassava, the latter being a starchy root full of vitamins and amino acids grown in tropical and subtropical locations throughout the world.  In North America dried cassava is known as tapioca, but the root itself has a panoply of uses which makes interesting reading on Wikipedia.
"My wife and I moved here ten years ago after 23 years in Calgary, and we like it.  I just wish I had more land than a city lot to grow more fruit trees–if my wife would let me!"
Patrick is no slouch, though, when it comes to using the land that he's got.  Besides the 65 or so apple trees, he also grows his own onions, garlic, beets, corn, carrots, strawberries, asparagus, blueberries, rasp-berries, peaches, peppers, tomatoes, plums, squash – the list goes on.
The reader may wonder how 65 apple trees could fit on a city lot and still leave room for a house.  The answer lies in cordon planting. As can be seen in the accompanying video, Patrick plants his trees in an angled (oblique) cordon with dwarf trees grown at forty-five degrees, just two or three feet apart and allowed to grow no more than five feet high.  You can purchase cordons all ready to plant, or if more adventurous, learning the art of grafting rootstock can open up many new possibilities.
"A dozen cordons can easily out-produce a full grown standard apple tree, and they are much easier to pick!", he explains.  "People will be surprised at how much they can grown in a small area. I have 60 plus apple trees in an area of 50 x 100 feet that yields more than 1000 apples
per season."
The busiest time for Patrick is in the springtime, but he says he averages about three hours a day.  "You don't have to be retired to be a part-time gardener," he says. The biggest time waster in his opinion is the lawn.  Mowing, edging, raking leaves time would be better spent growing food, he feels.  "Lawn maintenance takes up more of my time than anything else."
An automated watering system with drip hoses, on the other hand, is a necessary time saver-and conservation of water is an added bonus.  Patrick learned at an early age to be frugal with resources. "It is much different in Trinidad, where we had to save all the rainwater we could in the six month rainy season to get us through the dry season.  The barrels we used had to be covered with netting to keep out the mosquitos, and an inspector visited regularly just to make sure."
"But there are lots of ways to grow food and look after ourselves, I think more and more people seem to be doing it."
This year Patrick is trying out a new system for preserving apples well into next spring.  It uses practically no energy and may even save one appliance from the landfill.  He also has a unique method of fertilizing his orchard using a common "bilaterally symmetrical invertebrate."  Do you want to learn how to keep the birds off your strawberries without netting?  All of these tips and more can be found in the video which follows.
Thanks Patrick!
Who's not asking and why and who's asking – and what?
by Roger Stonebanks
Some residents in Greater Victoria will vote Nov. 15 on whether they want a study of amalgamation – or to express support for amalgamation. And some won't. It depends on where we live. And also on what the ballot question actually says.
The amalgamation campaign is being pressed under the banner "Amalgamation Yes" by the Capital Region Municipal Amalgamation Society. (See www.amalgamationyes.ca).
On the Saanich Peninsula, Central Saanich and Sidney residents will have a non-binding referendum but North Saanich council turned down the idea. Saanich council won't be balloting residents.
Central Saanich voters will face this question on the ballot paper – "Should the District of Central Saanich petition the Province to fund a cost/benefit analysis of an amalgamation of Central Saanich, North Saanich and Sidney? Yes or No."
Sidney voters will see this on Nov. 15 – "Are you in favour of a provincially-funded study to investigate the feasibility, costs and implications of amalgamating the three municipalities of the Saanich Peninsula?"
Retiring Sidney Mayor Larry Cross and some councillors are opposed to amalgamation but not to asking residents what they think. Amalgamation, said Cross, is "not in the best interests of Sidney."
North Saanich council will not be putting any question to its residents.
"The main reasons were the opinion of most that amalgamation could only increase municipal cost, increase debt and increase taxes," Mayor Alice Finall told Saanich Voice Online (SVO).
"With respect to my own opinion, I have had the opportunity to look into the extensive research on this question. This shows, with a number of examples, that contrary to popular belief, amalgamation does not save money but costs money, usually much more than anticipated. It also confirms that satisfactory levels of services tend to drop and access to local representatives is diminished. There are few economies of scale."
She also said the peninsula municipalities already share certain services, a point echoed by Central Saanich Coun. Zeb King.
Saanich council, it is clear, won't be putting the issue to residents.
"The current campaign to reduce the number of small municipalities is not a debate Saanich need be a part of," Saanich Mayor Frank Leonard told SVO.
"We are one of the 10 largest municipalities in BC, are five times the geographic size of Victoria and our population of 115,000 is 40 per cent larger and we have 1,500 employees. The only larger local government in the region is the CRD and many would say that proves bigger isn't better.
"Should ever a future council want to engage the public on this issue, I'd prefer one where there is factual information and a funded 'yes' and 'no' side. Currently this year the only information is from the advocates who have funding from the downtown business community."
Coun. Susan Brice concurred with published comments by Mayor Leonard, in particular this one – "Saanich's sprawling farms, parks and urban areas, lakes and streams take a small army of 1500 municipal employees and increasing those responsibilities won't necessarily result in efficiencies."
Another Saanich councillor, Vic Derman, said Saanich residents have not demonstrated wide support for putting the issue on the ballot and the question that Amalgamation Yes poses (asking if residents are in favour of reducing the number of municipalities) is "far too vague." He said any decision on some form of amalgamation should be preceded by an "extensive process of public debate on the pros and cons. Only after such a debate could the general public make an informed decision." Amalgamation Yes, he said, "has given no assurances of such a debate and are certainly not an appropriate organization to conduct one."
Elsewhere in the region, Victoria (where the question will be, "Are you in favour of reducing the number of municipalities in Greater Victoria through amalgamation"), and Esquimalt and Langford residents, will get to express an opinion. Oak Bay residents might – a notice of motion will be before council on Sept. 29 which was after SVO's deadline. In the "no vote" or unlikely to hold a vote category are Sooke, Highlands, View Royal, Metchosin and Colwood.
AMALGAMATION – UPDATED
Just as this issue of Saanich Voice Online came out, there were several new developments on the amalgamation question in the Nov. 15 municipal election:
Oak Bay council decided on Sept. 29, after SVO's deadline, to ask voters on Nov. 15 this question – "Are you in favour of the District of Oak Bay being amalgamated into a larger regional municipality?"
Both votes would be non-binding and require simply "yes" or "no" from voters.
Esquimalt council decided on Sept. 29 (after SVO press-time) to put two non-binding questions to voters:
"1. Are you in favour of the Township of Esquimalt exploring options to achieve efficiencies by further sharing some services with other municipalities? Yes or No.
"2. Are you in favour of exploring the reduction of the number of municipalities within Greater Victoria through amalgamation? Yes or No."
According to Langford Municipal Hall, they will have the following non-binding question on their November 15th ballot:
"Are you in favour of the City of Langford being amalgamated into a larger regional municipality?  YES or NO
North Saanich had a change of heart as well – as of Monday, October 6th – Councillor McBride's request to Council to consider adding a question regarding amalgamation to the ballot was granted. As a result, the following question will be added to the North Saanich ballot:
"Are you in favour of a study, provincially funded, to investigate the feasibility, costs and implications of amalgamating the municipalities of North Saanich, Central Saanich and Sidney."
While the District of Saanich will be adding a question to their Nov 15th election ballots, it won't be a amalgamation question.  The Oct 6th Council meeting saw Saanich council unanimously endorsed Mayor Frank Leonard's proposed addition of the question, "Do you support Council initiating a community-based review of the governance structure and policies within Saanich and our partnerships within the Region?"
Check back here for updates as they come in.
Flavourite Music now at the ol' Marley Farm
by Michele Murphy, photo by Ed Johnson
Introducing Flavourite Music Retreat and B&B, situated on a 46- acre -farm and vineyard looking over the tranquil Mt Newton Valley.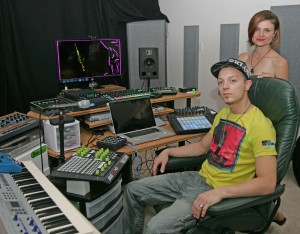 Saanichton-born and raised Lori J. Ward and her Austrian husband, Teo Orlando, are transforming the old Marley Farm into what they hope will be a world-class retreat for musicians, artists, foodies, farmers, gardeners, and travellers. Their energy, creativity and talent paired up with arguably the most awe-inspiring setting on the planet, just may be the perfect match.
A graduate of Parklands High School, Ward, 28, started in electronic music right out of high school. Studying under some of the best DJ's of the day, she became the first female DJ on the West Coast. Within two years, she had played all over North America. Ward found opportunities in New York City, London, and Berlin, the birthplace of Flavourite Music, before she settled in Austria. Ward's stage name became 'Lori, the HIFI Princess' and she was billed throughout the EU as Europe's leading lady of techno. Today, she has recorded eight of her own albums and is considered by some to be one of the top female DJs.
It was in Austria that Ward met her husband Orlando, 31. Born in Italy, the hyperpolyglot (six languages) artist made his living as a popular DJ and producer working throughout Europe. His strong background in music production quickly made him an integral part of Flavourite Music. The music label offers production, recording, design, promotion and even
education, with Orlando running the Flavourite Music School (FMS). Since Flavourite Music's start in 2007 it has over 250 tracks and 80 album releases to its credit.
The couple is excited about bringing their EU connections to Canada. Working with German pop and rock musicians, some of Europe's best house DJs and hip-hop artists, Orlando feels confident that they will attract world-class artists to the farm. "It's inspiring to be here. Working hard in the studio and then being able to sit back, looking over the hillside for a little downtime, it's rejuvenating," says Orlando.
"The music that we're getting from our people here is phenomenal," Ward explains of their client's work. "The creativity just seems to flow so easily in this incredible setting."
While music and farming seem to be a perfect fit, Ward confesses that the inspiration for farm life actually came from the financial reality of renting a studio in the Rock Bay district of downtown Victoria – as well as an office space and an apartment. She decided that all they needed was a mansion and a roommate to make this all work. When the farm with its 5,000 square- foot home came up for rent right across the street from her childhood home, Ward was sure that the universe was speaking directly to her.
Since they moved in just two months ago, already many of their plans for the farm have become realities. They have chickens and a vegetable garden bursting with produce. Their music school is booking up, their spacious guest rooms are listed on both AirBnB.com and B&B.com and their recording studio is in full- swing.
Ward is also excited about hosting events at the farm retreat. "The whole property lends itself so well to gathering and connecting with people. It's the perfect setting for celebration," she explains. The couple feel that with this spectacular location, the local harvest, the caliber of musicians that they can attract and their event management experience they will be able to offer unique top-quality music events, weddings, and fundraisers. Ward is researching local by-laws and looks forward to working with the community to make their events successful for everyone. She notes that Marley Farms hosted the sold-out FarmFolk CityFolk annual fundraiser, Feast of the Fields, in 2011.
When asked how it feels to be back in the Valley Ward answers, "When I returned to Victoria I thought my journey was over – now I am thinking that it's just beginning. I have come full circle and I'm really excited about the future. I'm looking at the valley through totally new eyes."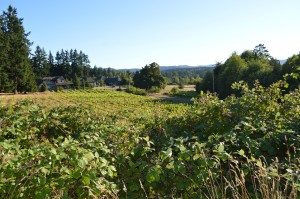 For more info on Flavourite Music go to www.flavouritemusic.ca
by Roger Stonebanks
If history is any guide (and it often is), the winner in the Nov. 15 municipal and school board elections will be – apathy. The majority of voters will simply chose not to vote – and in significant numbers.
In the District of Saanich, the most populous municipality in the region, three-quarters of eligible voters are likely to give election day a pass. In the 2011 election, there were 84,546 eligible voters but only 21,134 turned up at the polls – 25 per cent. It was worse in 2008 – the turnout was 20.61 per cent. And worse again in 2005 – 19.13 per cent. In 2002 it was better – 24.6 per cent. The turnout does get better in the smaller Saanich Peninsula municipalities. In 2011 it was 32.93 per cent in Central Saanich, 41.2 per cent in North Saanich and 31 per cent in Sidney.
Why is there such disinterest – and what to do about it? Exhortations to "civic duty" clearly haven't worked and neither has general hand-wringing about a sorry state of affairs. "If you discover the magic key, let me know," said Saanich Coun. Judy Brownoff.
Saanich council decided this year to reinstate mobile voting stations for seniors' facilities – and to continue mail-in ballots. As well, a new advanced polling station will be established at UVic.
"Over the years I ask people why they don't vote," said Coun. Brownoff. "The answer has been they are satisfied with Saanich council. Young families tell me they are too busy to get engaged. I'm not sure how to engage university age youth to vote at the municipal level. The level they are more concerned with are provincial and federal. They don't seem to appreciate what can be accomplished at the local level."
Coun. Brownoff thinks the importance of voting at the local level needs to be captured in the school curriculum by engaging youth at the middle school level; try to connect councils with university and college students; more advanced polling times, which Saanich is doing, and more information about what municipalities have the power to manage; and education on the Capital Regional District and roles of directors. Mobile voting units for seniors facilities and more advanced polling stations would help.
Saanich Mayor Frank Leonard said that in campaigning in neighbourhoods, "in a good year, you'd hope one-third vote, one-third might have voted but didn't, and one-third wouldn't vote no matter what convenience we provided. As for my own experience, I find that door-to-door canvassing identifies people who are likely to vote (so two-thirds at best) and campaigns work to get those that are sympathetic out on election day. So, by default it becomes apparent at the door who is not going to vote – the one-third – just not engaged in community, perhaps moving from home to home frequently, and don't identify with any local issues or candidates.
"So as for those who seem interested enough to vote, sadly I think only half of them still vote – some of that their own lack of motivation and some of that issues of convenience. Motivation? The candidates and issues are key. So are the candidate campaigns, since we are low-budget compared to federal and provincial, the voters are not reached in the same way as we don't have the media or volunteers to get out the vote.
"Convenience? That's what our staff keep trying to overcome – mail-in ballots, more advance polls, mobile polls, where polls are, on and on."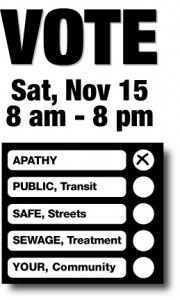 Saanich Coun. Dean Murdock says that, "On the doorstep I hear a lot of families talk about the cost of housing, frustration
over traffic, or lack of proper sidewalks. These are all things that your council can work to change or influence. Paying attention to who is on the ballot and casting a vote for candidates that will fight for your concerns is how we effect change."
He supports "all possible steps to improve access to voting" and specifically mobile advance polls and a polling station at UVic. Voter information cards are a good way to raise awareness about where and when to vote. "There is always more that can be done and I am keen to hear ideas that would get more people to the polls." He added that Saanich staff have been asked to look into putting voting stations at places like shopping centres and recreation centres.
For info on where, when, and how to vote:
http://www.saanich.ca/living/election/index2.html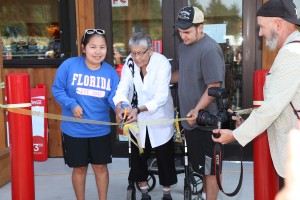 photos by Ed Johnson
An excited crowd of elders, chiefs, politicians, and families turned up for the ceremony and ribbon-cutting of the new Tsartlip Nation Gas Station and Convenience Store on Stelly's Cross Rd. on Aug 21. The traditional ceremony offered a blessing for the new building and staff followed by a salmon barbeque.