by Dermod Travis
Last year, 12,281 registered lobbyists roamed the corridors of power in Washington, D.C. – a city that sees itself as the most powerful in the world.
Comparatively, one would imagine that British Columbia might have a few hundred or so at most. Yet, astonishingly, there were 2,717 registered lobbyists working the political backrooms in B.C. – one for every five in D.C.
Trying to track their influence on provincial politics is a murky undertaking. The industry isn't just the suits hanging out their shingle because of who they may know or what political favours they may have performed. Today, it includes lawyers, accountants, trade associations, public relations firms and community organizations.
Although far from foolproof, following the money is a little easier.
If the industry has some household names in B.C., Patrick Kinsella is one of them. Since 2005, Kinsella and two of his associated companies have donated $230,506 to the B.C. Liberals and zip to the NDP.
The national firms try to spread it a bit. Hill & Knowlton Canada forked out $72,380 for the Liberals, while Hill & Knowlton Strategies gave $13,450 to the NDP. Earnscliffe B.C. gave $64,136 to the Liberals and Earnscliffe Strategy Group gave $26,145 to the NDP.
Must be something about 'strategy' and the NDP that lobbyists see and others don't.
But they're just one part of the industry. B.C.'s Registrar of Lobbyists counts 382 organizations with active registrations. And some of them have deep pockets.
The B.C. Road Builders and Heavy Construction Association has donated $129,341 to the B.C. Liberals since 2005, the Canadian Convenience Stores Association $7,600, the International Pharmacists Association coughed up $14,978, and North West Cruiseship Association docked in at $41,493.
The Progressive Contractors Association of Canada, which bills itself as "representing and supporting progressive unionized employers in Canada's construction industry," gave $18,200 to the Liberals and, ironically, nada to the NDP. The Canadian Bar Association covered its bases with $600 to the NDP and $1,075 for the Liberals, but the Trial Lawyers Association of B.C. went exclusively with the Liberals to the tune of $34,820.
All in, donors that had "association" in their name gave $3.36 million to the Liberals and $907,000 to the NDP. That's a lot of membership dues.
Then, for want of a better term, there's the "LLP" component to the industry – legal and accounting firms – who often have partners or associates that are registered as lobbyists as well. Add all those LLP designations up and another $1.34 million was donated to the Liberals. The NDP pocketed a paltry $89,800.
It seems to pay to be the party in power.
But something else is happening with political fundraising in the province that's highly worrisome: private, closed-door events where the promises are plentiful and the cover charge ain't cheap.
Last October, the B.C. Liberal party pocketed close to $100,000 following an exclusive $5,000 a plate dinner with Premier Clark. A registered lobbyist promised the 21 guests a "generous opportunity" to speak with the premier.
On the very day that the party deposited its windfall, it also reported two donations that were conspicuous for no other reason than their dollar amount. Diana Bennett and Scott Menke both cut the party cheques for $5,078. Bennett is the CEO of Paragon Gaming and Menke its president.
Their donations came smack in the middle of the company announcing that it would take another stab at developing an urban casino resort in downtown Vancouver and its controversial hiring of former B.C. Lottery Corporation CEO Michael Graydon to lead that push. One of Paragon's past in-house lobbyists was former B.C. Lottery Corporation chair T. Richard Turner.
Ever wanted a legitimate reason to scream 'fore' at five B.C. cabinet ministers? Up to 60 individuals had the chance, after laying down $1,000 each for a day of golf at the Sagebrush Golf Club in Merritt. A few more ministers and they could have breaked for a cabinet meeting on the 18th hole.
Common thread between most of these high-priced, chummy events? Registered lobbyists buying or selling the tickets.
And it's that intertwining of lobbyists with a political party's fundraising apparatus which is troubling, because ultimately both sides risk developing a dependency on keeping the other happy and the money flowing. It rarely ends well.
Dermod Travis is the executive director of IntegrityBC. www.integritybc.ca
The BC Aviation Museum chronicles 25 years of operation
by Natasha Caverley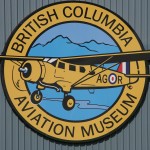 "More than anything else, the sensation [of flying] is one of perfect peace mingled with an excitement that strains every nerve to the utmost ~ if you can conceive of such a combination." Wilbur Wright (1867—1912), airplane inventor and manufacturer
Located off Canora Road at the Victoria International Airport in North Saanich, British Columbia (BC), the BC Aviation Museum (BCAM) figuratively serves as a "time machine" where visitors can go back in time to view vintage aircrafts—many of which flew the skies around Greater Victoria. In its 25th year of operation, BCAM remains committed more than ever to the preservation of aircraft and the retention of artifacts and related materials that present BC aviation history to future generations.
Open seven days of week, except for Christmas Day and New Year's Day, the Museum is a 100% volunteer-operated charitable not-for-profit organization on the Saanich Peninsula—making BCAM one of the few museums in Canada to operate without any paid staff. The Museum's team is comprised of 85 volunteers led by BC Aviation Museum President John Lewis and his Board of Directors. As a collective, BCAM volunteers assist in preparing and cleaning displays, guiding visitors, working in the BCAM Library, and collecting and restoring aircrafts as well as other aviation artifacts such as log books, medals, photos, books and art that document the history of flight in BC from the years before human flight, military history (World War I—WWI and World War II—WWII) to modern day aircrafts with an emphasis on Vancouver Island aviation.
There are two other aviation museums in BC—one in Comox, that concentrates on the Royal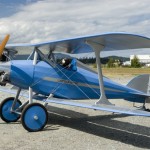 Canadian Air Force (RCAF) and military aviation history, while the Canadian Museum of Flight in Langley, focuses on flying displays of vintage aircraft.
With volunteers like Doug Rollins (Museum Librarian) at your side, you will enter the various hangars at the Museum with a sense that you have, in fact, journeyed back in time—reviewing the diverse set of displays, and learning about the history of aviation in BC and the role that the Pat Bay airfield (now the Victoria International Airport) played during WWII. With much pride and enthusiasm, Rollins explains some of the significant aviation events that shaped the history of flight on the Saanich Peninsula: "Did you know on May 3, 1919, the first recorded flight of an aircraft over the Saanich Peninsula was completed by Pilot Lt. Jack Clemence accompanied by passenger Harry Graves? Lt. Clemence flew a war surplus Curtis JN-4 Canuck Biplane known as a 'Pathfinder.' The flight lasted just under an hour, and no landing was completed, but this first event indicated that the age of human flight had come to the area, and pointed to a brighter future."
For Rollins, a former private pilot and a son of a WWII veteran, volunteering at the BC Aviation Museum provides a sentimental connection and legacy between aviation and his family—"through our collection, one can tell a comprehensive story of military, commercial and private aviation in BC, including gliders, jets, helicopters and piston-powered aircraft…the restoration of BC-based aircrafts is a cornerstone for the BC Aviation Museum where volunteers can spend up to seven years refurbishing and repairing historical aircrafts for subsequent display in one of the Museum's many hangars."
The Museum enshrines multiple hangars that house notable aircrafts that include, but are not limited to, the Norseman (bush plane), pre-20th Century gliders, a model of the Gibson Twin Plane (the first Canadian-built aircraft to fly in Canada), Eastman E-2 Sea Rover and the Trident Trigull. Also, a gift shop, restoration area, library and multi-purpose room provide other unique dimensions to the Museum.
BCAM volunteers are currently restoring a former BC Government aircraft that was based at the Pat Bay airport in the 1960s which was utilized by the famous "Flyin' Phil" Garglardi (1913—1995) while he served as the BC Minister of Highways from 1955—1968. BCAM Restorers are also working on a homebuilt aircraft to demonstrate construction techniques as well as preparing several "hands-on" aircraft simulators for visitors—especially kids!
As the BCAM Librarian, Rollins showcases the Museum Library's extensive collection of over 7,500 individual titles, as well as priceless photographs, visual and audio recordings and archives. The BCAM Library is open to the public for research purposes. Most recently, Rollins and BCAM volunteers are raising funds for the Museum though the sales of surplus BCAM Library materials (e.g., books, models, instruments) on e-Bay.
Rollins remarks on the fact that "…the Museum and its extensive collection of aviation artifacts, that have all been preserved over the past 25 years, were all restored, protected and provided by donations from generous citizens." The BCAM volunteers typically raise funds for the Museum's operations by themselves through admission fees, gift shop sales, special events such as the BCAM annual Garage Sale and Open House, renting their facilities for special events and of course, charitable donations of materials and cash from their members and the public at large. Rollins elaborates that "the crowning achievement of the Museum has been the ability of the organization to not just survive, but thrive….When you look at the Museum through the eyes that we have little or no money, what we have accomplished in terms of facilities is truly staggering…Equally, our ability to attract and keep truly talented and dedicated people to volunteer at the BCAM is a success….Many of our aircraft and display items were acquired for little or nothing as they were deemed 'junk'; however, through the hard work and resourcefulness of our restorers, we have turned them into impressive display pieces.
The BC Aviation Museum is hosting its Annual Open House
Saturday July 26, 2014, 10 am to 4 pm at 1910 Norseman Road, North Saanich
This year's Open House is dedicated to the 75th anniversary of the Pat Bay airfield. Special exhibits will be presented about the history of the Pat Bay airfield. Special exhibits will be presented – including the display of two vintage aircrafts from the era. For more information about the C Aviation Museum, visit

www.bcam.net

.
Local government and the Victoria Airport Authority also play a significant role as supporters of the BCAM. For example, the District of North Saanich provides relief from commercial property taxes to the Museum in excess of $10,000.00 annually, while the Town of Sidney has previously donated surplus office equipment to BCAM. Likewise, the Victoria Airport Authority provides the land on the airfield that the BCAM volunteers use for their facilities and assists them in specific projects such as erecting the BCAM sign, and maintaining the Museum's road and parking lot.
Rollins comments that "a challenge (for the Museum) is making it known to the general public what a truly impressive and interesting place it is…for example, it is not uncommon for us to hear visitors say 'I've lived here my whole life and didn't know you existed' or 'Wow, this is much more impressive than I would have thought. I must tell my friends about this.'"
The 25th anniversary of the BC Aviation Museum not only pays tribute to the history of flight in BC, especially on Vancouver Island, but it is also a testament to the generous citizens and volunteers who donate their time, equipment and funds as collective contributions to sustaining what the Peninsula News Review called "one of the Seven Wonders on the Saanich Peninsula." In celebration of both the Museum's 25th anniversary as well as the 75th anniversary of the Victoria International Airport, Rollins and Brad Morrison (Sidney Archives Curator) co-authored a four-part series on the history of the Pat Bay airfield that described the history of the airfield to the end of WWII as well as events that shaped the airfield in the post-war years.
Interesting Saanich Peninsula aviation facts shared by Rollins, Morrison and BCAM volunteers include stories such as:
On October 22, 1939, George Walter Du Temple and Corporal W.S. (Rusty) Hopper landed the first RCAF aircraft on the still incomplete runway of what was to become RCAF Station Pat Bay. With the outbreak of the Pacific War just two years later, Pat Bay suddenly found itself in a strategic position and rapidly grew into the third largest airfield in Canada, accommodating both land and water-born aircraft, with both training and operational squadrons from Britain and Canada.
On March 31, 1948, the RCAF flag was officially taken down and the Pat Bay airport and its facilities were turned over to the Department of Transport. Although the military would remain as tenants for most of its life, the airport could now accommodate the rapidly growing commercial and private aviation sectors. In years following, the Pat Bay Airport (now the Victoria International Airport) would dominate all competing airfields closer to Victoria, and serve as a key economic driver for southern Vancouver Island in a new age of air transport of people and freight.
Do you have interesting stories to share about the history of flight in BC, in particular on the Saanich Peninsula? Please contact Doug Rollins, BCAM Librarian at library@bcam.net.
"WOW" That was the best tasting strawberry I've ever had! Here it is only mid May in Bill and Brenda Morgan's backyard and already they have been feasting on home-grown strawberries for the past three weeks, Bill says. In fact they pretty much live year around on what they can produce in their small backyard in Brentwood Bay.
Read the rest of this entry »
When I was very young – starting at about 6 or 7 years old – my Grandfather Chris was everything to me. My Father was out in the world trying to make a difference for our futures. My Mother had four little ones under foot, including me, the eldest and most independent. During those first days with the nuns at the Indian day school I couldn't wait for the bell to ring, so I could stop at my Grandfather's house on the way home.
Read the rest of this entry »
What I find most disturbing about BC Hydro's forced imposition of smart meters is how readily politicians of all parties have abandoned fundamental principles of a free society in order to accommodate bureaucratic expediency. Individual freedom demands that government has boundaries.
Read the rest of this entry »
Mental Health and its role in individual health needs to be recognized as an equally important aspect of personal health in the broader community according to The Canadian Counselling and Psychotherapy Association (CCPA) which held its 49th annual convention recently in Victoria.
Read the rest of this entry »
Saanich Voice Online Video presents:
Raincoast Conservation Foundation and Sierra Club BC team up with Robert Bateman and others to discuss the absurdity of oil transport through BC lands and oceans.
Speakers:
Chief Vern Jacks, Tseycum Nation     0:58
Eric Pelkey, Tsawout Nation                 9:00
Ross Dixon, Raincoast Foundation  19:45
Robert Bateman, Artist                        23:25
Andy Rosenberger, Raincoast           52:06
Caitlyn Vernon, Sierra Club BC     1:07:30
Elizabeth May, MP                             1:19:00
Gary Holman, MLA                           1:27:45
Audience and Panel                           1:30:50
"We are here to oppose Bill 24. Real Farmers are being hurt by the proposed changes. We have not been consulted. We want to make the ALR and ALC work better, this is not the way, and we are extremely upset about this Bill and its impact on agriculture and food security in British Columbia.
Read the rest of this entry »
So what does a Conservative party senator from Ontario, the Toronto Blue Jays, an Ontario public sector union and a part-owner of the Calgary Flames all have in common? If their chequebook is any indication, they have a keen interest in B.C. politics.
Read the rest of this entry »