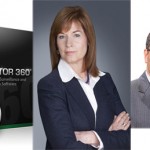 Spyware story beginning to take shape.
January 20, 2015, the BC Privacy Commissioner, Elizabeth Denham, announced that she is launching an investigation into whether the 
District of Saanich's use of employee monitoring software complies with the Freedom of Information and Protection of Privacy Act.
The events that preceded that announcement have been both interesting and confusing.
The story began in December when newly-elected Saanich Mayor Richard Atwell discovered that employee monitoring software had been placed on his new Saanich office computer, although, he at that time, chose not to involve the public in the matter. It wasn't until January 12, 2015, that the mayor called a news conference where he made several stunning allegations involving both the Saanich administration and police.
The Mayor read a prepared statement alleging that someone in the Saanich administration, without his knowledge or consent, was planning to spy on everything that he did on his computer using a program called Spector 360. The mayor went on to say that he had been informed by legal counsel that these actions may amount to the criminal interception of private communications under the Criminal Code of Canada.
Atwell said that his legal counsel "wrote to Saanich Police Chief Bob Downie asking him to request an external police entity to investigate the allegations as we believe oversight of the investigation places Saanich Police in a clear conflict of interest." The Saanich Police would have been investigating their own employer, the District of Saanich, including the wife of the police chief, who works as an administration assistant in the chief administrative officer (CAO) and mayor's office.
Spector 360 Employee Monitoring Software is made by American software company, Spectorsoft. 
According to the company's website the software is meant to detect and detail harmful employee computer activity. It "reviews individual and aggregate employee actions, as if you were sitting there with video-style screen playback."
Spectrosoft says that their software is capable of capturing all user activity including website activity, personal web-mail, instant messaging, social media activity and private messages, file transfers, all keystrokes typed including passwords and banking information, and is completely undetectable by the employee.
Saanich council confirmed the use of Spector 360 on Tuesday, January 13, when they responded to Atwell's allegations with a media release of their own titled, "Software Installed to Protect Integrity of Saanich Computer System." 
The release explained that the installation was in response to recommendations made some six months earlier in a May, 2014 independent external audit of the District of Saanich computer systems. The audit apparently recommended the installation of security software, and as a result Spector 360 was purchased on Nov. 21 and installed on an initial group of key computers, including the mayor's office computer, the following month.
The council's release also stated that a review of the Saanich administration staff 's actions had been initiated by the district's own police force and that, "they determined that there was no basis for recommending charges against Saanich employees."
The following day the District of Saanich released a Backgrounder document to be used by staff to help answer media questions. It names Wordsworth & Associates as the firm that conducted the audit but it does not say that the security firm specifically recommended Spector 360. 
The document said that the mayor was given a Network Access Terms and Condition form at the time that his new computer was installed, although they have not received a signed form back from him.
The Backgrounder also states that in the interest of protecting municipal and public information, no additional details related to Saanich's security measures or audit would be released. Saanich's Network Access Terms and Condition form is attached to the end of the document.
It seems that the Office of BC's Privacy Commissioner didn't find Saanich's monitoring of the new mayor's communications quite so benign. The Office issued a news release on January 13th (and an update on January 14th), outlining privacy law around the overt and covert use of employee monitoring software. The release stated that, "…in the case of covert use of software there have been no cases brought before this Office where covert monitoring was found to be justified under privacy law."
Six days later the Commissioner decided to 'act on her own motion' and take a step further initiating an investigation into whether the District of Saanich's use of employee monitoring software complies with the Freedom of Information and Protection of Privacy Act.
"We need the facts concerning implementation of the software, including what methods of data capture have been enabled and the extent to which personal information is being collected from employees," said Denham. The investigation is expected to be complete before the end of March and will be released to the public.
The days following the Commissioner's announcement saw the media (finally) jump to attention. The Times Colonist's (TC) January 23rd headline read "'Spyware' on Saanich mayor's computer rare in B.C.'s large local governments." TC reporter Cindy Harnett surveyed 25 of BC's largest municipalities and found that not one uses surveillance software that can covertly capture keystrokes and screen images. She went on to report that BC's provincial government also said it does not use software that covertly monitors workers, and the Capital Regional District says that they have only used it as a tool where employee conduct was being questioned, but currently does not have it on anyone's computer.
The Globe & Mail, in its article, "Tracking software installed on Saanich mayor's computer 'atypical'," spoke with Steven Schnider, principal consultant at Vancouver-based Procyon Security Group. He remarked that the security software on Atwell's computer belongs in "hacker territory." "It's usually used by the black hat, not the white-hat security people," he said.
The Vancouver Province's Michael Smyth, in his column, "Embattled Saanich mayor could have the last laugh," quotes Victoria political consultant, Mike Geoghegan, who worked on Atwell's campaign. Geoghegan brought the story back to December when three Saanich insiders allegedly alerted the new mayor that spyware had been installed on his municipal hall computer. Apparently Atwell questioned the three insiders, tape-recorded their testimony and turned their statements into sworn affidavits now in the hands of his lawyer. Geoghegan said that he listened to the recordings, and is calling for a full 
investigation.
The media response to the issue has by-and-large been to call the allegations explosive, bombshell, and to describe Atwell as paranoid. But 12 days into the story and it's now starting to look as though the narrative is shifting; apparently it may be the municipality that's paranoid and not the district's new mayor.
The mainstream media's curiosity is finally beginning to pique. And there's still plenty to be curious about.
Questions: Who is authorized to spy on whom? Where did the now-let-go Saanich CAO believe that his authority came from to carry out this monitoring? Who was he planning to report out to on his findings? Were his actions legal? Were they grounds for dismissal? Would enough rope have been a better choice than $480,000? 
If Saanich council is okay with the use of spyware in the workplace, then what other rights to privacy are they okay with weakening, and why?
For answers we look to the Privacy Commissioner's report and the 
District of Saanich
Michele Murphy is a 30-year resident of Saanich, a bit of a political junky, has asked too many questions her entire life, and wishes SVO were a weekly.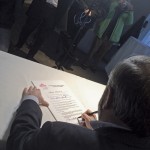 by Michele Murphy
"…it has been said that democracy is the worst form of government, except all those other forms that have been tried from time to time."
~ Winston Churchill
Canadians have, at the very least, agreed to settle with democracy. But are all democracies created equal? Does how we execute our democracy determine the fairness of it?
Canada's last federal election in 2011 saw the Conservative Party of Canada become the ruling party of Canada–with just 39.6% of the vote. To be more specific, that's the confidence of 39.6% of the only 61% of eligible voters who actually voted. So in reality, our government is the declared first choice of less than 25% of the Canadian electorate. 
What can a party with the confidence of only 25% of eligible Canadian voters do with that little support? As it turns out – pretty much anything they want.
Under Canada's current voting system, known as First-Past-the-Post (FPTP), the Conservatives, with 39.6% of the vote were granted 54% of the seats in the House of Commons, a majority. As a voting block, the Conservatives can pass any vote or over-rule any vote in the lower house that they see fit. And they do. 
Wendy Bergerud, local president of the Greater Victoria branch of Fair Vote Canada, has long been saying enough is enough, and now she is being joined by an increasing number of Canadians and elected officials from across party lines. "Fair Vote Canada has been working for more than 10 years to get electoral reform on the political agenda and it is a great step forward to now have the support of the federal NDP as well as the Green Party", says Bergerud.
First-past-the-post-voting originated in the 12th century and was adopted from Westminster. Now, some 900 years later, most major democracies have tossed it out in favour of some form of proportional voting. 
The idea of democratic reform is nothing new in Canada. In BC a change to the system got as far as creating a Citizens' Assembly to determine what type of proportional voting system the province might replace FPTP with, and then held two referenda. 
The Assembly determined that the most suitable form of proportional representation for BC would be Single Transferable Vote (STV). The province then took that to the people and while more voters than not wanted the change in the 2005 referendum – the vote came in just 2% shy of the demanding 60% support that then-BC government required – a later referendum saw less support.
What happened? According to political strategist and communications specialist, and then president of the NO STV campaign, Bill Tieleman, "In brief: the giant STV ridings scared off voters, as did the incomprehensible STV voting system."  
According to members of the Citizen Assembly, there were many factors that contributed to the lack of public support for STV, not the least of which was the communication strategy of the YES campaign and its failure to meet the challenge of explaining the benefits of the new, somewhat complicated, voting system.
Fast-forward to 2014 where a national conversation on proportional representation (PR) is emerging leading up to the 2015 federal election. This past December NDP MP Craig Scott put forth the following motion in the House of Commons: 
That, in the opinion of the House: (a) the next federal election should be the last conducted under the current first-past-the-post electoral system, which has repeatedly delivered a majority of seats to parties supported by a minority of voters, or under any other winner-take-all electoral system; and (b) a form of mixed-member proportional representation [MMP] would be the best electoral system for Canada.
While the motion was predictably defeated – with no Conservative support, and only 16 of 31 Liberal MPs in favour of the change – it was supported by all NDP and Green MPs and it has reignited the conversations about having fairer representation in our governments. 
Along with the motion has come a commitment from Canada's Official Opposition that they will, should they have the power as a result of the 2015 election, make 2015 the last unfair federal election in Canada.

How does the average voter make sense of all this? 
"Voters simply need to understand that what we have does not serve them well. The majority of Canadian voters do not have the government that they voted for. And Canada is one of the few major democracies left that is hanging onto this archaic 12th century system that serves only those that are in power. Countries all over the world are enjoying democracies that actually reflect the values and choices of their electorate. We can do better."
And, if you're thinking that this is a political ploy that will work well for the parties proposing it, Victoria MP Murray Rankin explained, "No. In fact, had the last federal election used proportional representation, despite our momentous electoral gains, New Democrats would have had slightly fewer seats in Parliament today."
This article is the first in a series of SVO articles on proportional representation. As SVO is at its best when its content is written by the Saanich/Peninsula/Sidney community, we encourage you to contribute to this series. Please consider adding your voice to the conversation.
You'll find our submission criteria HERE
For more info:
Why Proportional Representation?
Council of Canadians Supports Fair Vote Canada's Declaration of Voters' Rights
Vancouver 24hrs – NDP Backs Loser in Prop Rep  (the comments are worth reading)
by Francisco Canjura 
Green Drinks-Saanich Peninsula is a gathering for environmentally-conscious people to meet, network and share ideas in informal sessions over appetizers and beverages.
Green Drinks began in 1989 in London and has since expanded to a variety of countries.
Green Drinks have been taking place in Victoria for years and it was in Victoria where Alicia Cormier, Green Drinks-Saanich Peninsula organizer, developed a taste for the monthly meetings. 
Cormier lived in the Saanich Peninsula and worked in Victoria at the time. However, a few years ago she made a conscious decision to reduce her carbon footprint. She decided to get a job in the Saanich Peninsula close to home. 
Her decision meant that she would now attend Green Drinks-Victoria on rare occasions rather than monthly, but she missed Green Drinks and in May 2013 she decided to start a chapter in the Saanich Peninsula.
Green Drinks-Saanich Peninsula has been a success, "we get about 30 people a meeting and people range from landscapers to academics," said Cormier. "Everyone is welcome and the great thing is that about one-third of the people that come are always new to the event."
The meetings sometimes have guest speakers, or involve tours of local businesses or organizations, but the focus of Green Drinks is for like minded-environmentally conscious people to network and share ideas, says Cormier.
The first part of the meeting gives people a chance to interact and usually they last 20 minutes are reserved for the guest speaker. 
Past speakers have included local climate change experts, green-business leaders, businesses that have made significant changes to their operations to operate in a more sustainable way, and companies that have been recognized for their environmental and ethical leadership.
Green Drinks-Saanich Peninsula's next meeting takes place on January 27 from 5:30 p.m. to 7:30 p.m. at Zanzibar Café, 1164 Stelly's X Road. Cost to attend is $10 and includes appetizers. 
For more information on Green Drinks-Saanich Peninsula check out their Facebook page GreenDrinksSaanichPeninsula or visit www.greendrinks.org to learn more about the Green Drinks movement.
Bringing the ballot questions back to the council chambers
by Roger Stonebanks
Voters spoke at the Nov. 15 municipal election in non-binding plebiscites on amalgamation and governance – and now councils are moving to act on the results.
"The amalgamation question response is quite clear – people are interested in information about costs and feasibility of amalgamation," said North Saanich Mayor Alice Finall, where voters supported this question: "Are you in favour of a study, provincially funded, to investigate the feasibility, costs and implications of amalgamating the three municipalities on the Saanich Peninsula of Sidney, Central Saanich and North Saanich?"
Central Saanich voters supported this question, "Should the District of Central Saanich petition the Province to fund a cost/benefit analysis of an amalgamation of Central Saanich, North Saanich and Sidney?" Sidney voters said "Yes" to this question, "Are you in favour of a provincially funded study to investigate the feasibility, costs and implications of amalgamating the three municipalities of the Saanich peninsula?"
Mayor Finall told Saanich Voice Online that her council will spend two days in early January considering its priorities for the coming year.
"I anticipate that this will be one matter that they will discuss," she said. "For the District to conduct the study, as stated in the referendum question, we will need to receive the necessary funding from the province. This will require us to make an application to the province. Council will need to decide whether we make this application in conjunction with the other peninsula municipalities. I am working to organize an early tri-municipal meeting which North Saanich will host."
The District of Saanich, meanwhile, is pressing ahead with a "governance review" as a result of voter support for this question which avoided the "amalgamation" word – "Do you support Council initiating a community-based review of the governance structure and policies within Saanich and our partnerships within the Region?"
In two motions specifically referenced to the voter-approved governance question, council approved unanimously on Dec. 8, "That a governance review, in accordance with the motion on the ballot, be initiated as soon as possible, within a 90-day period." Council also requested municipal staff "to prepare a report, as soon as possible within a 90-day period, indicating how such a review might be structured and carried out in accordance with the motion on the ballot."
The two motions were initiated by Coun. Vic Derman who predicted at council that the governance review process will be lengthy and complex with a variety of venues available to allow the public the chance to express ideas. Webcasting council meetings could be started before the end of the review. It was important, he said, to provide the public with as much information as possible to make informed decisions.
Mayor Richard Atwell noted that in his inaugural address to council on Dec. 1 when he announced the formation of a Governance and Cooperation Review Select Committee. How this and other initiatives roll into Coun. Derman's motion was a question, he said. Coun. Derman responded that the question put to voters did not include the formation of a Governance Committee but it will become part of the discussion once the staff report is received.
-30-
The Minister of Community, Sport and Cultural Development, Coralee Oakes, made the following official statement regarding amalgamation /governance following the Nov. 15 municipal elections:

"In the Capital Region, a number of municipalities asked ballot questions about governance structures at the local level, and results indicate many citizens in the region are open to examining changes to the local government structure and/or service delivery.

"There is always value in dialogue about whether current governance structures are meeting local community needs. There is only one taxpayer, and it is the responsibility of all levels of government to ensure the most efficient and effective delivery of public services.

"The Ministry of Community, Sport and Cultural Development is now in the process of reviewing the referendum results related to this highly complex matter in greater detail, as I am sure the newly-elected councils will wish to do so when they take office. 

"I remain committed to provide the support and resources required by the newly-elected local governments, once they have had an opportunity to discuss and review the results in greater detail."
Media Release
For Immediate Release December 17, 2014
Staff Announcement – Mr. Paul Murray
Saanich, BC – The newly elected Mayor and Council of the District of Saanich together with the District's Chief Administrative Officer have mutually agreed to end their relationship effective December 16, 2014. As this decision involves confidential information regarding personnel, no further comment will be made. The District thanks Mr. Murray for his service, and wishes him every success in his future endeavours.
At the December 8, 2014 in-camera Council Meeting the following motion was supported unanimously by Councillors:
"That Council does not support actions taken by Mayor Richard Atwell, whether as Mayor-elect or Mayor, with respect to the ongoing employment of Paul Murray as Chief Administrative Officer of the District of Saanich."
This in-camera meeting was the first opportunity for the entire Council to discuss Mayor Atwell's actions regarding the employment of Mr. Murray. Council through the above motion raised its concern and objection to the activities and the process that was undertaken by the Mayor without knowledge or agreement of Council. The actions taken by Mayor Atwell left Council with no viable options other than to proceed to end the employment relationship with Mr. Murray. Council is also concerned about the financial impact the Mayors' actions have had on the citizens of Saanich – a total payment of $476,611 (inclusive of accrued vacation of $55,448). This equates to 0.50% of taxation money that cannot be used for other initiatives of the municipality.
-30-
Saanich News has Mayor Atwell's response to the events:
"It was a very short conversation done in my office. I invited him in for a discussion about moving on and that started the proess of him thinking about leaving. Council looked at it and decided they would negotiate his departure," Atwell said.

"Where council has difficulty is I made this initial contact with Mr. Murray as Mayor-elect, and I think they expected that to come to council first," he said.

Atwell said the $476,000 severance package will be paid out of several funds, but couldn't immediately provide specifics.

"$55,000 of that is accrued vacation," Atwell said. "There doesn't seem to be a limit to how much vacation a senior manager can accrue."

When asked about the unanimous councillor motion opposing his actions, Atwell said he sees himself in an oversight role within the municipality, and that voters gave him a mandate for change at the ballot box.

"That means getting new ideas into the organization. A new CAO will be able to implement some of those ideas that I campaigned on.

"There will be councillors interested in maintaining the status quo … but change is often difficult and there are costs to moving forward," he said.
SN's full article can be found here:
http://www.saanichnews.com/news/286112831.html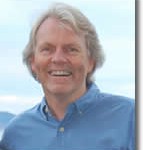 Michael J. Prince is the Lansdowne Professor of Social Policy at the University of Victoria. A political scientist, he follows local, provincial and federal politics and governments. 
The question of amalgamation in the Capital Region is a contentious and complex topic with no straightforward or guaranteed answers. In Saanich and on the Saanich Peninsula two very different next steps seem likely to play out over the next four years.
In Saanich, the non-binding referendum questions were not directly about amalgamation, as they were in other CRD municipalities; no mention here of asking for a provincial government funded study or on reducing the number of municipalities in Greater Victoria. 
Rather, Saanich voters were asked if they would support their Council initiating a community-based review of the governance structure and policies within Saanich and on partnerships within the Region. 
On that question, 88.5 percent of Saanich voters said yes. This can be interpreted in several ways: as widespread support for making the civic governance of Saanich more transparent and open to the public, as expressed by the mayor-elect, Richard Atwell; as modernizing policies; as adopting best practices for service delivery; and, perhaps, examining options for sharing some services through partnerships with other municipalities in the Region. None of these imply amalgamation. As the largest municipality in Greater Victoria, there is little incentive for Saanich leaders or residents to rush into amalgamation. (In Esquimalt, 86.6 percent of voters supported the idea of sharing some services with other municipalities; when asked about reducing the number of municipalities in the region, support was lower, yet still substantial at 67.4 percent.)  
After the November 15th local elections, a different future for civic government seems probable on the Saanich Peninsula. 
In comparison to referendum questions on amalgamation presented to voters in Esquimalt, Langford, Oak Bay, and Victoria, the questions on the Peninsula presented a specific scenario of what amalgamation might mean as regards to the basic process of a study and the actual number of municipalities involved. 
Voters in the District of North Saanich and in the Town of  Sidney were asked a near identical question: are you in favour of a study, provincially funded, to investigate the feasibility, costs and implications of amalgamating the three municipalities on the Saanich Peninsula? In Central Saanich, the question was quite similar in nature: should the District petition the Province to fund a cost/benefit analysis of an amalgamation of Central Saanich, North Saanich and Sidney?
In North Saanich, 62.5 percent of voters supported the idea of such a study on assessing the costs and benefits of amalgamating the three municipalities; in Sidney, 67.5 percent of voters expressed agreement; and, in Central Saanich, 70.6 percent of voters on the questions indicated their support.
In all three of these municipalities, it is worth adding, nearly all voters (96 to 99 percent) who cast ballots for mayoral and council candidates, also voted on the referendum question. This suggests that the question of amalgamation was taken seriously by voters and not treated as some frivolous or minor issue.
The similarity of the questions and the evidence of strong support by voters in Central Saanich, North Saanich and Sidney provide a solid democratic basis for a provincially funded study on the benefits, costs and implications of amalgamating the three municipalities on the Saanich Peninsula. 
Following a provincially commissioned study, this could mean that at the next local elections in October 2018, there could be a binding referendum question on the Saanich Peninsula. As a result, we could go from 13 to 11 municipalities in the Region by 2020. This appears the most likely political outcome on amalgamation over the medium term; disappointing results for those eager for more drastic and rapid change in the local governance of Greater Victoria.  
Beyond that, the amalgamation issue seems destined to the back burner or to a sewage treatment plant.
by Judy Barlow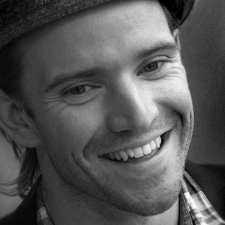 Every artist has his or her own creative process. Rising star Caleb Speller's is a little different from others – in that he's never quite sure what the day will bring.
"What I try to do with my artwork," says Caleb, "is explore different themes. I don't think in the morning, 'I'm going to spend some time with a piece of paper and just draw.' I'll ask myself what materials will best describe the theme for the viewer. It usually comes to me while I'm working on it."
It takes a lot of trust in the process to throw an idea up in the air and see if it flies. Caleb's confidence comes from an unshakeable belief that his creativity is a gift from God.
"I'm looking at life as a gift and I'm looking at the skills God has given me and I'm wondering every day, 'What can I do with these skills that I haven't done yet?' I want to understand why God has given me this gift." 
A collage artist makes use of old magazines, catalogues and books; maybe even garbage off the street and repurposes the material. Sometimes it's meant to trigger a dialogue; other times it's meant to give a totally different representation of what something used to be. In our affluent society, Caleb notes. "There are so many free resources at our fingertips that you can be creative on a dime. You don't need to go to the art store and pay for an expensive piece of French paper. It's so basic and free from the financial aspect of creativity." 
Caleb's hugely successful collage project, Public Domain, was extracted entirely from renowned Canadian photographer Yousef Karsh's portraits of famous people. "The paper quality is perfect for a collage artist to borrow from on a material level, even without the visuals. I extracted from his portraits and the achievements that those people were known for, and repurposed them to a new history within 15 collages. So if you wanted to research this project you can find every little piece of the new collages in those portfolios."
"When something dies [its] energy goes into something else. When someone's done with something, even a simple magazine, we say it's going in the trash or the recycling. It just means that it's going away from us; it's not going away. Collage has that dialogue embedded within it – you're taking back something that was moved away from someone else  and  bringing it back into focus."
Caleb enjoys breathing new life into society's detritus. "I think art always has that quality – we're always turning something into something else."
Caleb's work has received both national and international attention. Look for new ceramic designs in Wishlist 6, the group exhibition opening December 4th at Polychrome Fine Art. His wildly popular Food Stamps exhibit was showcased at both Lady Marmalade Café's Victoria location and their Toronto one in October.
An upcoming collaboration with Shawn Grocott from Shawn and the Wolf, a jazz duo, finds the pair developing a German exhibit in 2015.
Caleb's very limited book, Artwork by Caleb Speller is available online. Or you can purchase one of his unique refurbished bicycles, accompanied by a custom-designed Caleb Speller tag. And he's collaborating with the locally based Toy and Ming on a limited clothing line of wearable art fashioned from custom-printed fabric full of Caleb Speller's drawings.
So what is it that drives this young man to get up and create something new every day?
"As artists we want people to come and see our artwork …" says Caleb. "We want to be able to have at least enough of a description of what it is and why it is – it's more than just a piece of art – it's a conversation attached with it. There's a deeper aspect of my creativity that I'm aware of, but I can't fully describe yet. But I know it's a gift – every moment is. It's something I don't want to take for granted. If you have knowledge or a skill and you keep it to yourself you're being selfish – it's not going to grow and it's not going to be of use to anybody."
Keep your eye on Caleb Speller. He's growing and going places – and not just geographically. Someday you'll say, "I knew him when…"
calebspeller.yolasite.com  |  polychromefinearts.co

Psych Test , Colour Sheet Number Five – 2014    By Caleb Speller, Collage on black paper, 76 X 57cms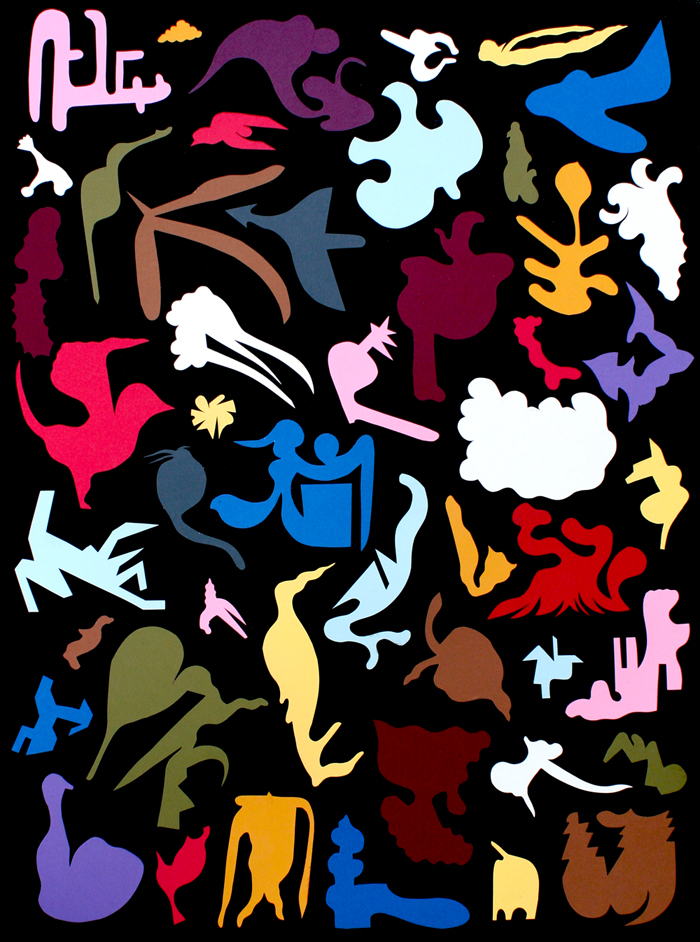 The giving season is upon us and it can mean all sorts of things to all sorts of people.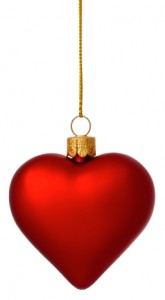 For retail merchants the giving season often represents the time of the year that their books start to show evidence that their hard work all year will pay off. For charities it represents the time of year that people feel, and act most philanthropic. For everyone else it can be a stressful time of balancing the budget, their values around commercialism and over-consumption, and their desire to show their friends and family that they care by
giving them a token of their love and appreciation.
What if you were able to do good – by shopping?
In this day of local, fair trade and ethical shopping, we can make all sorts of choices about how we use our gift dollars to do good.
If supporting the resiliency and sustainability of your community is important to you, or the person you are gifting to, then just choosing a local merchant, service provider or product over a non-local business can make a huge difference.
Michael Shuman, economist, attorney, prolific author and instructor of the course 'LocaNomics: Principles and Practice for Community Prosperity' in SFU's Community Economic Development program says, "For every dollar that you spend at a local shop you get two to four times the economic impact that you would had you shopped just at its non-local competitor."
Shuman references a study out of the US that showed for every $100 spent at a local bookstore, $43 stayed in the local economy, compared to only $13 when the same $100 was spent at a chain bookstore. These stats have proven consistent in over a dozen studies done both inside and out of the US.
Shuman says that the difference between local and non-local merchants, and how one better supports the local economy, is partly explained by where the company's head office is. "Chain-stores don't have upper management here; their lawyers and accountants are not here and the chain-stores don't advertise in local media."
Are Chapters executives having dinner in Sidney tonight, or buying their Girl Guide cookies from your daughter? Are their lawyers buying their holiday turkeys from Carnivore Meats & More, (whose owner buys many of his turkeys from Ireland Farms, and whose bookkeeper lives just down the road…).
The idea of supporting charities or causes through product purchases is nothing new. World Aids Day sees Apple selling red iPods in support of the cause while New Balance offers you the option of 'lacing up for the [breast cancer] cure,' through the purchase of their rose-coloured sneakers. Of course the Girl Guides have been easing our cookie splurging guilt since 1927.
Used Victoria has started a new service that benefits shoppers, local charities and de-clutterers alike. People are invited to list treasures that they are ready to part with, but instead of taking the money themselves, they elect to offer the money to the charity of their choice. Local charities are registered on the site and unlike a regular sale on Used Victoria, the money exchange is done online via credit cards. For more information see #UsedHelps on UsedVictoria.com.
If fair trade that supports families in distant lands interests you, then Sidney's Laloca is certainly worth a visit. Tucked away in the alley at Garden Court off Beacon Avenue, this little shop is chock full of treasures from both near and far. Shop owner Christine Downing says, "Laloca is dedicated to building sustainable livelihoods for people both locally and across the world."
Saanich Voice Online invites you to support our local merchants this giving season, because it's a great thing to do – and because they support local media.

Central Saanich
Mayor
Ryan Windsor
Councillors
(in order of votes received)
Niall Paltiel
Zeb King
Alicia Cormier
Carl Jenson
Christopher Graham
Bob Thompson
Question:
Should the District of Central Saanich petition the Province to fund a cost/benefit analysis of an amalgamation of Central Saanich, North Saanich and Sidney? Yes 3588 No 1489
---
North Saanich
Mayor
Alice Finall
Councillors 
(in order of votes received)
Geoff Orr
Heather Gartshore
Jack Thornburgh
Celia Stock
Murray Weisenberger
Jack McClintock
Non-Binding Question:
Are you in favour of a study, provincially funded, to investigate the feasibility, costs and implications of amalgamating the three municipalities on the Saanich Peninsula of Sidney, Central Saanich and North Saanich? YES 2881 NO 1727
---
Saanich
Mayor
Richard Atwell
Councillors
(in order of votes received)
Dean Murdock
Colin Plant
Susan Brice
Vic Derman
Fred Haynes
Judy Brownoff
Vicki Sanders
Leif Wergeland
Question:
Do you support Council initiating a community-based review of the governance structure and policies within Saanich and our partnerships within the Region? YES 21,437 NO 2780
---
Sidney
Mayor
Steve Price
Councillors 
(in order of votes received)
Erin Bremner
Barbara Fallot
Peter Wainwright
Mervyn Lougher-Goodey
Tim Chad
Cam McLennan
Non-Binding Question:
Are you in favour of a provincially funded study to investigate the feasibility, costs and implications of amalgamating the three municipalities of the Saanich Peninsula? YES 2566  NO 1232
In the past few weeks many organizations, media outlets and special interest groups have offered candidates the opportunity to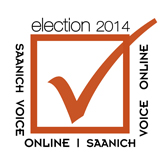 clarify where they currently stand on various issues.
Saanich Voice Online asked the candidates in Saanich, Central and North Saanich and Sidney to talk about what they would like to accomplish by certain dates.
Below are links to a few questionnaires that we hope may help you on deciding who will best serve as your community leaders this week. You'll also find a taping of one of the all-candidates forums that took place during the campaign – just in case you were not able to attend, or would like to review it.
If you know of others please send us an email or add it in the comments below.

Community Action Plan on Poverty
(may have been a passive questionnaire and not a direct ask)
Fair Vote Canada – Greater Victoria
Peninsula News Review Candidate Q&A
Times Colonist election coverage
(Please note: a candidate's failure to respond may have less to do with their lack of interest in the issue than the number of requests they have received, when and how the requests were sent out, or email miscommunication.)