A rare glimpse of the white robin on the Peninsula
photo and story by Ed Johnson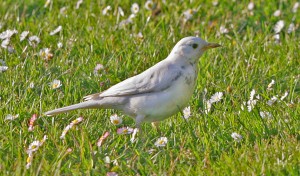 Imagine my surprise when friends called me up to tell me about a white robin they had seen on the peninsula.  At first they thought it must be a dove, but on closer examination it became evident that this was the rare partial albino form of the North American robin.
Before heading out with a camera, a brief research was in order.  
Not being a full albino which would be even rarer, the partial albino has pigment in its eyes rather than the pink colour which eventually renders the animal blind with a shorter lifespan than the usual 11 or more years. In fact, it appears, the partial albino robin is the predominate form, but both forms are only found in one in 30,000 robins.  While other birds, and indeed some animals, exhibit forms of albinism, as a common yard bird, the robin is the most reported species of bird.  In Native American mythology, the robin is known as the 'can-do' bird for its industrious nature.  Its caring parental nature is considered by some as good luck for a pregnant woman to see robins feeding their young.  Others saw them as a symbol of peace.
Birds lacking pigmentation are becoming a more usual sight on Vancouver Island. Well known Nanoose photographer, Mike Yip, has photographed white ravens in Qualicum over the past six years.  These blue eyed birds are also partial albinos or more correctly described as leucistic, a reduction of all types of pigmentation rather than just melanin.
And now we have our own local celebrity.  Knowing that robins prefer earthworms – I had fed a mother robin and her brood one spring by placing a pile of worms on a dirt pile and watching her snatch them up and fly off to her nest – I knew a bit about habitat and where to look for this particular robin.  But, of course, the first time out is never lucky and all I found in the area were the normal red breasted variety.  
Considering it to be a warm day and not conducive to mid day worm gathering, I decided that near evening would be both cooler and perhaps more of a stimulant to the appetite.
That hunch proved prescient.  As I approached the area where this bird is usually seen, I immediately spotted her on the lawn.  The picture here is my effort to get as close as possible with a 180mm lens before she took flight.  Maybe I will pack a few worms next time!

Developer of former Trio site says they are looking for input
by Roger Stonebanks, citizen journalist
The owner of one of the last significant developable properties within the Urban Containment Boundary in Saanich, the 26-acre former Trio site in Cordova Bay, is asking the community first – what do you want? – before coming up with and presenting a plan.
 It is becoming less so (but it still happens) that property developers come up with plans first and then go to the community to present them. This procedure puts the community in the position of having to be reactive rather than being able to be pro-active – expressing their views before the plan is developed.
 "We prefer to engage the community we work in early and often," David Roppel, Director of Planning and Development for Aragon Properties of Vancouver, told Saanich Voice Online.
"We are interested in what the community's needs and expectations are. We don't find the present-and-defend approach successful. We prefer to get community input early and have it inform and support the planning process."
Aragon Properties held its first community workshop in Cordova Bay on Feb. 21 and more than 100 people attended. A second community input meeting is expected in May.
 "We learned the community has a desire for affordable housing in the neighbourhood so adult children of current residents can afford to live here," said Roppel of the first workshop
"We also learned the neighbours expect a well-considered approach to inter-connected open space. Community members thought it important that the new community fit well with the existing community and build on, not draw away from, Mattick's Farm."
Anthony Minniti, president of the Cordova Bay Association for Community Affairs, told SVO that "many more developers are approaching projects" the way Aragon is. His executive has not discussed Aragon's process in particular but speaking personally, "I applaud the developer for the community consultation process."
 The CBA has had an introductory meeting with Aragon Properties.
John Schmuck, chair of the Saanich Community Association Network, said his association, Quadra-Cedar Hill, likes proponents "to come to us for discussion before they develop their hard plans. This allows us to provide input and get some of our ideas into the original plans. We generally meet with them at the beginning of the process."
Schmuck said Quadra-Cedar Hill helps proponents hold a meeting with neighbours and other interested persons "who want to have a say in the project. After that is complete we then write our letter to Saanich Planning stating our position on the project before the planners write their report to council."
 Other community associations in Saanich follow a similar procedure. It is Saanich policy to encourage developers to meet and work with community associations.
The former Trio site is at the corner of Cordova Bay Road and Fowler Road and below Alderley Road. For many years it was a gravel quarry and, along with rock crushing, it also had a concrete-making facility. More recently, after those uses ceased, Trio Gravel Mart sold soil mix and mulch and concrete products. The property was sold by the McLaren family to Aragon Properties for $6.1 million last year.
The property, which is within the Sewer Service Area, is being called Triangle Hill by Aragon Properties. It is across Cordova Bay Road from the 37-acre Sayward Hill condos, townhouses and nine-hole golf course that were developed by the Jawl family of Cordova Bay, owner of Mattick's Farm and the 18-hole Cordova Bay Golf Course. The Triangle Hill architect is Franc D'Ambrosio. With his former partnership, deHoog D'Ambrosio, he was master planner for Mattick's Farm and Sayward Hill. That firm was architect for Mattick's Farm, Mattick's Green and Mattick's Wood and Phase One of Sayward Hill (the masterplan, rezoning and design guidelines, a six-storey condo and five townhouses). DeHoog proceeded with remaining phases of Sayward Hill after D'Ambrosio formed his own company, D'Ambrosio Architecture and Urbanism in 2003.
 While the site was rezoned in 1999 into three areas in anticipation of development, it did not happen. The southeast corner, for example, is zoned for townhouses and condos with a six-storey height limit and a maximum 110 dwelling units. But Roppel says Aragon is restarting the planning process. He said it is too early to determine uses and densities but he appeared to drop one hint when asked about the 9.7-acre mini-storage zone for recreational vehicles in the north part of the property – "Aragon has not built mini-storage in the past."
Roppel said he welcomes public input and he can be reached at droppel@aragon.ca
                                                   -30-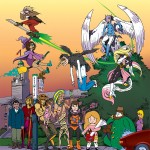 A look at Camosun's Comics & 

Graphic Novels program

by Judy Barlow, photos by Ken Steacy © 2015

Comics. They're not just for kids. They're not always comical. They can entertain, educate, and inspire They're serious business.

Just ask industry experts Ken and Joan Steacy and the students in the Comics and Graphic Novels Program at Camosun College.

"Visual storytelling is a language comprised of words and pictures working together, inextricably linked. These are not just illustrated stories; it's a whole new language," says Ken, adding, "I've spent forty years playing in other people's sand boxes. I've worked for Marvel and DC comics and done film – Astro Boy, Iron Man, Star Wars – you name it. And when you're in the business you spend a lot of time at conventions asking people, 'Where did you go to school?' There was really no answer. So Joan and I put together the dream program, if we were young people wanting to learn the language of visual storytelling." 

What they came up with after some tweaking is an intense eight month program ("Kind of a boot camp", says Joan.) with six visual art and four creative writing courses. 

"There's room for everybody," says Joan. "There's no age or gender barrier… A lot of our students are female – quite a departure from Ken's early experience in a male-dominated industry."


The program has attracted a host of unique and sometimes weirdly interesting students who view life through a lens that Joe Average can't imagine. With varied backgrounds and wide-ranging experience, there's a sense of belonging within this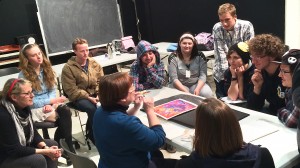 creative cocoon.
After ten years in Vancouver, picking up illustration work, and distributing self-published 'zines of his work, Jesse Blanchard wondered if this program had anything to offer him.
"At first I really scoffed at it," says Jesse. "I wasn't prepared to go to post-secondary, but I sent Ken my portfolio and he was very excited to have me, so I moved over here from Vancouver."
The program has helped him grow as an artist.
"It's very different coming to an environment where we have instructors telling us what we're doing right or wrong," says Jesse, "and we have our peers' support and critiques. It expedites the learning process and my
development just being around everyone else."
Evelyna Torttier loves turning her stories into visuals. "It's fun to actually make the visual that you were seeing in your head as you were writing the story," says Evelyna. "Anyone that's really into telling stories and drawing – comics is definitely the way to go."
Luc Chiasson had tried painting, and drawing, and even scriptwriting – but never forgot that he had always loved creating comics. "It never mattered whether they were good or not," says Luc. "It was just fun to create this world and live in it with my friends."
For Luc the best part of the program has been the people. 
"It's nice to know that there are other people that have a separate world from this one," says Luc. "I love comics better than any other art form. You can create –get past that barrier between us and pictures. You can bring your audience into the story, make them feel things; anger, happiness, sadness – just feel."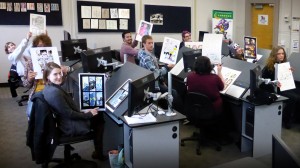 Luc cautions upcoming artists, "If you're coming to this program, prepare to work your ass off. Because if you go into anything half-hearted, you're going to get torn apart. It's work – you've gotta be prepared. Even God took seven days to make the world, so if you're trying to make a world that people can accept it's going to take a lot more than seven days."
Former UVic student Liz  Sakowsky needed a creative outlet. Camosun's Comics and Graphic Novels program seemed like a pretty good fit – practical and cartoony, with a strong writing and storytelling aspect. The program is fun for Liz. She agrees that it's all about the people. "The best part is meeting a lot of people who have similar interests," says Liz; "We're a tight-knit group; a kind of community." Liz too has advice for would-be artists.
"If you're thinking about getting into comics but you don't think you're a good enough artist – you are. If you're thinking about taking the program and you're hesitant, just go for it. There's people of all levels here, and there's so much support and so much learning that can be done. You'll amaze yourself."
In today's visually-oriented world the illustrator wields tremendous power. So to the graduate students venturing out into life and careers after college – use it well. 
Bonne chance. "Vous êtes Charlie".
Characters © 2015 by their creators: Anya Alldritt, Hanan Alyousif, Kailyn Barlow, Jesse Blanchard, Katherine Crane, Georgia Hewitt, Raphael Pirenne, Kay Prosser, Richard Quay, Megan Rowe, Liz Sakowsky, Evelyna Trottier, Luc Chiasson
An extraordinary planning committee meeting of Central Saanich mayor and council is called to hear from the public regarding plans to address future growth areas in the coming years.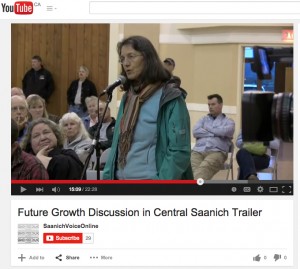 For the complete meeting, go to https://youtu.be/Rs1JSKqhrXY
 by Roger Stonebanks, citizen journalist
Central Saanich council has called on North Saanich and Sidney councils and Community Minister Coralee Oakes to attend a "joint committee meeting" on provincial funding for a study or cost-benefit analysis of amalgamation of the peninsula municipalities.
"Council has resolved to invite the mayors and councils of the three municipalities and their citizens to attend and provide input at a joint meeting," said Mayor Ryan Windsor of Central Saanich in a letter this month to Oakes who was invited to attend the joint meeting.
Following this joint municipal meeting, Windsor requested a meeting with Oakes "to discuss next steps including development of the Terms of Reference for the study. The mayors and chief administrative officers of the 3 municipalities will be invited to the follow-up meeting. In order to move forward, we ask that your staff provide us with dates and times you are available to attend the meeting."
In a separate letter to Oakes, Windsor noted that Central Saanich voters approved the following question at the Nov. 15 election – "Should the District of Central Saanich petition the Province to fund a cost/benefit analysis of an amalgamation of Central Saanich, North Saanich and Sidney?"
North Saanich voters answered "yes" to this question – "Are you in favour of a study, provincially funded, to investigate the feasibility, costs and implications of amalgamating  the three municipalities on the Saanich Peninsula of Sidney, Central Saanich and North Saanich?"
Sidney voters approved this question – "Are you in favour of a provincially funded study to investigate the feasibility, costs and implications of amalgamating the three municipalities of the Saanich Peninsula?
Asked for comment, Oakes told SVO: "The Ministry of Community, Sport and Cultural Development is in the process of considering how best to proceed regarding the results of the referenda in the Capital Region.
"The Ministry sees an opportunity to support a conversation on governance and service integration and has heard from some Mayors and Councils but needs to hear from others to gauge interest and better understand how to collaborate on this goal.
"Decisions about potential next steps will come out of the Province's considerations and future discussions between local governments and the provincial government."
Mayor Alice Finall of North Saanich said, "The note from Central Saanich reflects the position of North Saanich. We have requested financing from the province so that the municipality can conduct a study." (updated May 1, '15)
Mayor Steve Price of Sidney was asked by SVO to comment on the Central Saanich letters but has not replied.
Meanwhile, Saanich council is waiting for a staff report before beginning its "governance review." Voters said "yes" to this question last Nov. 15 – "Do you support Council initiating a community-based review of the governance structure and policies within Saanich and our partnerships within the Region?"
For earlier information and comments about amalgamation/governance on the Saanich Peninsula and in Greater Victoria generally, please see:
Regional Collaboration – a work in progress March, 2015
Comment is Free, But Facts are Sacred April, 2015
Moving Amalgamation Forward, or Not January, 2015
Amalgamation – where do we go from here? December, 2014

Facts and Comments – by Roger Stonebanks, citizen journalist
Last November, most of us in the Capital Region chose not to vote at all in the municipal elections for mayors and councillors and that included seven of the eight out of 13 municipalities in the Region that held referenda on amalgamation or governance or other such wording. Only in North Saanich did a majority – barely – go to the polls. Still, in a democracy, decisions are made by those who vote.
Since the Nov 15th election there has been much commentary and some over-simplification about the amalgamation/governance referenda results. As a noted British journalist, C.P. Scott, once said, "Comment is free but facts are sacred."
Community Development Minister Coralee Oakes has commented that the referenda questions were "quite mixed" in the eight municipalities. So too were the answers. What did we do when we voted? To refresh ourselves as the debate continues, here's how we voted last November – and on what (plus some comments):
SIDNEY – "Are you in
favour of a provincially funded study to investigate the feasibility, costs and implications of amalgamating the three municipalities of the Saanich Peninsula?"

YES, 2,566; NO, 1,232; eligible voters 9,100.
NORTH SAANICH – "Are you in favour of a study, provincially funded, to investigate the feasibility, costs and implications of amalgamating the three municipalities on the Saanich Peninsula of Sidney, Central Saanich and North Saanich?"

YES, 2,881; NO, 1,727; Eligible voters 9,055.
CENTRAL SAANICH -
"Should the District of Central Saanich petition the Province to fund a cost/benefit analysis of an amalgamation of Central Saanich, North Saanich and Sidney?

YES, 3,588; NO, 1,489; eligible voters 14,242. 
Commentary: These three referenda are clear and so are the results – a study or cost/benefit analysis, funded by the province, of amalgamation of the three peninsula municipalities. 
SAANICH – "Do you support Council initiating a community-based review of the governance structure and policies within Saanich and our partnerships within the Region?"

YES, 21,437; NO, 2,780; eligible voters 80,986. 
Commentary: Saanich council held out against pressure for some sort of referendum – then decided, unanimously, on the question above. It carefully – and deliberately – avoided the word "amalgamation." This resulted in those who favoured amalgamation voting for it (perhaps because it was as good as it was going to get), those who opposed amalgamation voting for it (perhaps because "amalgamation" wasn't mentioned), as well as those who simply thought that a community-based review was a good idea, and may not have had an opinion on amalgamation at all.
VICTORIA - "Are you in favour of reducing the number of municipalities in Greater Victoria through amalgamation?"

YES, 18,351; NO, 4,601; eligible voters 69,624. 
OAK BAY – "Are you in favour of the District of Oak Bay being amalgamated into a larger regional municipality?"

YES, 2,184; NO, 3,594; eligible voters 14,107. 
ESQUIMALT - two referenda, (1) "Are you in favour of the Township of Esquimalt exploring options to achieve efficiencies by further sharing some services with other municipalities?" YES, 3,731; NO, 578; eligible voters 14,545; (2) "Are you in favour of exploring the reduction of the number of municipalities within Greater Victoria through amalgamation?"

YES, 2,905; NO, 1,404; eligible voters 14,545. 
Commentary: The first question is about shared services – not amalgamation. The second question only sought to explore amalgamation but note how support for it drops and opposition grows compared with the shared services referendum. 
LANGFORD - "Are you in favour of the City of Langford being amalgamated into a larger regional municipality?"
YES, 2,222 (9%); NO, 2,209; eligible voters 23,864. 
Commentary: Clear question, clear answer – but it passed by only 13 votes. 
View Royal, Highlands, Colwood, Metchosin, Sooke – councils did not hold referenda. Eligible voters 34,505. 
Commentary – because these voters were never asked – we can never know what they thought. 
Overall the percentage of eligible voters that voted yes – on whatever their question was – was just 21%
Election results source – Civic Information BC/Elections BC – www.election2014.civicinfo.bc.ca
For news updates on amalgamation/governance – Saanich Voice Online – www.saanichvoiceonline.ca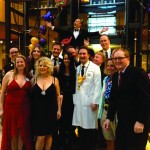 2015 seems to be the Greater Victoria Citizens' Counselling Centre's year. The little powerhouse of an agency that sees over 1,200 people each year from the Greater Victoria area is just about to host its seventh annual gala fundraiser Tip a Fool –and has just been chosen to receive a complete building make-over through HeroWork this coming June.
"The year is starting out very well," says long-time executive director Brenda Wilson. "We're always very grateful for the support of the community, but this year it seems that it's over the top."
This hasn't always been the case for this Centre – or many other community counselling agencies in the Capital Region. Not long ago people were able to find affordable counselling services within their own community. Sidney and the Peninsula were serviced by volunteer counsellors through Beacon Community Services, and while they still provide some service on the Peninsula, the number of available counselling spots has diminished greatly over the last ten years.
"When the community was most able there were several agencies that were offering the kind of support that we do, here at the Centre," says Wilson. Through a series of Vancouver Island Health
Authority (VIHA) cuts the community's capacity to provide this kind of support dwindled steadily, while the need for it grew.
In 2010, after a couple reprieves, the Centre's VIHA funding was cut with the Authority saying that it needed to focus its limited resources on higher acuity clients. Wilson says that since that time they have had to rely on their fees for service, grants from the United Way and Victoria Foundation, gaming money, and their own fundraising.  And it hasn't always covered the bills.
Citizens' Counselling Centre has been serving Greater Victoria since 1969, with a mandate to provide quality, affordable counselling to all those who request it of them. The Centre provides all its counselling through trained volunteer counselors. The counselling Centre runs a 10-month intensive counselor training program every year (funding permitting) that has created over 750 counselors since its humble beginnings. In exchange for the training the newly-minted counselors are then required to provide 250 counselling sessions to the Centre's clients over the coming months and sometimes years.  Many volunteers provide much more than the required 250 sessions. Volunteer counsellors as well as UVic and City University Master's level practicum students provide the Centre with more than 100 active volunteer counselors at any given time.
But even with all that amazing counselling capacity, the demand is greater.
"Right now our waiting list is about six weeks long," says Wilson. "Certain times of the year are worse than others, but for the most part we're backlogged over a month at any given time." Wilson says that over 30 per cent of their clientele are youth, and a growing number are seniors.
"We're finding that today's 18-29 year-olds and the over 65s have some very specific issues that they are faced with and are needing a little extra help making sense of it all," explains Wilson, adding, "We're just glad that they are reaching out and asking for help, and that we can be here when they do. Our fundraising efforts are vital to keeping that a reality."
Enter Tip a Fool, the agency's annual major fundraiser. "Our Tip a Fool event has been a life-ring for the agency," says Wilson. "And it is really starting to make a name for itself as seen in our repeat table buyers. It's a crazy-fun event, and people love it."
The annual gala is held at the Union Club of BC. It sees 12 local celebrities act as waiters and compete for tips by offering the outrageous and the wonderful to their table guests. Past events have seen Pacific Opera's Timothy Vernon taking advantage of a nearby baby grand and a make-shift tip jar while then-Victoria Mayor Alan Lowe and his trusty side-kick (played by Jack Knox) busk on the corner by the bar.  Knox is back this year along with a whole host of media, political, and business leaders.
"Past waiters' tips have topped $3200 for the evening [Randy Wilson, 2008], but most range from $400 – $2400," says Event Chair Kyara Kahakauwila. She says that ticket sales are good this year, but they have more to sell. "We have a great roster of celebrities and we're working hard to have a sell-out. We like to say that it's the most fun you'll have, doing good."
For more info on Tip a Fool (or to buy a ticket) visit www.tipafool.ca or Facebook
For more information on Citizens' Counselling Centre: www.citizenscounselling.com or Facebook
Stay tuned for part two of the Centre's good year story – featuring their HeroWork Radical Renovation – in July's issue of SVO. You can follow the progress on Heroworks' Facebook Page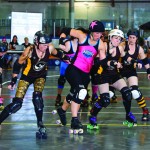 by Michele Murphy, photo by Bonner Photography
Roller derby divas Eves of Destructions' ninth season kicks off this month with their all-star A team facing heavy-hitter Abbotsford team the Anarchy Angels. The Eves promise an exciting bout showcasing the skill and the passion of this intense event. Four-year derby veteran Esther Beauregard, or by her derby name, C-3Ph0 (Ho for short), says that this season will be their best yet.
"We're thinking that his will be a break-out year for the A Team," says Ho. "We'll be facing some really tough competition this season which will really showcase our talent. You're going to see a level derby here on the Island that we haven't seen before."
The Eves of Destruction is a club of passionate amateur all-female derbyists from all over the Capital Region. They practice throughout the region, with their bouts taking place in Esquimalt and Langford.
All-female roller derby has been around since the 1930s, with it's heyday in the 1940s when it was played on a banked track to large audiences in more than 50 cities across the US. The sport eventually evolved (devolved?) into a form of sports entertainment using colourful player names, costumes, developed characters, dramatized rivalries, and somewhat or completely scripted bouts. By the '60s it had settled into the sports and entertainment fringes, losing the mass appeal it once enjoyed.
Until 2001.
Derby was reborn just after the turn of this century in Austin, Texas (city motto, "Keep Austin Weird"). The sport of it was back with a new focus on athletics and strategy. Today, modern roller derby is played internationally on a flat track. The slightly slower track makes it possible to play in any community that has a solid gym floor, a hockey or curling rink, and spectator demand. The sport is still dominated by all-female adult amateur teams, but male, co-ed and youth teams are on the rise. Flat-track derby was even considered as a roller sport for the 2020 Olympics. While the colourful names and interesting uniforms remain, strategy and athletic ability have replaced the scripted theatrics.
With the Eves' focus on skill and safety, hitting the track as a full-on player doesn't happen overnight.
"There's a lot to think about in modern derby," explains Ho, "it's not just a physical game, it's a mental one too. Modern derby involves strategy. You need to understand the plays, and your role in the line, and you need to play by the rules. It takes a while to get the hang of it – whether you're a player or a spectator."
For the spectators there's a run-down of how the game is played at the beginning of every game, complete with non-playing players in the audience to answer your questions throughout the bout.
For the players there's a very structured graduated training process that starts at skating basics and goes right up to the all-star team, appropriately named the A Team. The focus is on safety and skill building and they say that no one is put on the track before they are both physically and mentally ready. Derby is open to all adult females. "We have women from 18 right through to their mid 50s joining," says Ho. "Derby not a place that you come to get in shape though; you need to be in shape to play."
But for the players, derby is more than just a sport, it's personal. "My derby team is family," said third-year, 46-year-old Saanich player Shannon Pfaffenberger, whose derby name is Pfury S Pfaff. "We're together a lot – usually two and three times a week. No matter what's happening in your outside life, it all goes away when you're at derby. The girls know you, they really get you, you have a shared love and respect for the sport and your team," she explains. "We rely on each other, on and off the track.
"These are strong, passionate women that I play with. The word inspiring comes to mind,"Pfaffenberger says,. "It's the best sport that I have ever played."
Eves' season opener is at Archie Browning Centre on April 25th at 6 pm.
For more info visit: www.evesofdestruction.com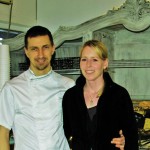 Stefano & Melissa Mosi return home to Saanich
by Michele Murphy
Mosi Bakery Café opened its doors to an eager line-up on a sunny morning in February and owners Stefano and Melissa Mosi couldn't  be more pleased. "We were busy all day," says an excited Melissa. "Everyone was really receptive, we were pleasantly surprised by the warm reception."
While the Mosis may have been surprised by the eagerness of their Prospect Lake neighbours, the young couple are hardly strangers to warm Saanich welcomes.
The Mosis are probably best known as the founders of La Collina , a popular Italian bakery, café and gelato outlet that they started in an unassuming building on Cedar Hill Road in 1997. La Collina had grown to three shops by the time the couple sold their share in 2005 and headed to Maui. There they opened the island's first gelato shop, Ono's. The Mosis have returned home now, and have just opened up another bakery in the old Prospect Lake General Store building at the corner of Spartan and West Saanich Rd. SVO caught up with Stefano on opening week to find out more about their new endeavour. Here's what he told us: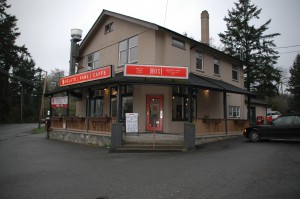 What made you decide to come home?
Our family all live in Victoria and while we were living in Maui we adopted a baby girl which made travelling  to see them very hard (Maui is a six-hour flight).  Once our daughter got her Canadian citizenship we sold our gelato shop and moved back to Victoria to be closer to them.  Also living in the States is a difficult transition from Canada in terms of health care and not being able to vote.  
Why now?
As soon as we moved home last May we started to search for our next business. We looked at lots of different areas but the West Saanich location came available in December and the owners of the 101-year-old building are family friends, Rick and Brenda Mitchelmore. It was good timing.
Why this location – and why do you expect to succeed in this location while others haven't been quite so fortunate?
It's true that past businesses have had trouble in this location, but we are providing a different service than those in the past. The West Saanich heritage building has been an integral part of the community at many different points in its history; from a post office, to Chinese corner store. It was always a meeting point for the community.  Twelve hundred cars pass by here daily on their way to and from work servicing the Peninsula. As well, the number of cyclists on the Interurban Rail Trail on the weekend is staggering.
Our business concept is an on-site bakery-café and gelateria. I have heard from countless residents that they are so glad that we have come to the area and want to help support our endeavour.  
What does Mosi's offer?
We have a full in-house bakery which includes artisan breads, baked goods like brioche, salted caramel cinnamon buns, ham & cheese croissants, and cannoli. We make our gelato freshly churned and offer 10 flavours daily that are displayed in an old-fashioned gelato case, like the one my grandfather used in Italy in the 1920s (of course he used ice back then instead of electricity.)
We have a breakfast menu with Eggs Benny Italian style, country breakfast, bakery toast, and locally roasted Drumroaster coffee.  Lunch is an array of bakery bread sandwiches served hot and cold. Our specialty is an Italian grilled cheese with melted Fontina.  We make soup daily in house.  We also have a full espresso bar. Our liquor licence is in process, so we hope to offer a selection of local craft beer, cider and wine.  
Is your business just retail or will you be selling 

wholesale as well?

One thing that we have learned from our growth and expansion with La Collina is that we need to stay with one location and focus on retail.  La Collina had grown to five retail locations and was the largest artisan wholesaler on the Island at the time.  We sold to BC Ferries and Thrifty Foods, with more than 100 employees; it was too much growth in too short a period of time.  We ultimately sold our shares to our then-partners Alex Campbell, Jr. and Jeff Sims and pursued our gelato shop idea in Maui.  
What are your plans for the future of Mosi's?
Our plan is to strive for a balance of work/life, to enjoy our daughter Sofia and our family. Our plan, keep it small and focused, have great employees and pay them a living wage, and provide great baked goods and food for the community.
What's the one thing that you really want SVO readers to know about Mosi's?  
I'd like the readers to know just how much we really appreciate their support, and what a difference it can make when the community comes together to support a worthwhile business.
We plan to work with  local farmers like the Red Damsel farm down the street. They grow amazing fruit in the summer months and we can't wait to make fresh gelato with their strawberries and other fruit! Our name, Mosi Bakery, is paying homage to my grandmother on my father's side who owned a pasticceria in Viareggio, Italy in the 1920s called Mosi as well.  You can see a photo hanging in our shop.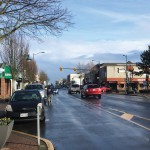 An update on governance/amalgamation – for the latest updates – scroll to the bottom of the article
by Roger Stonebanks
Victoria city council has moved to bring to a head the issue of a provincial study of amalgamation or governance in Greater Victoria.
At a council meeting on Feb. 12, Mayor Lisa Helps was "directed" to "write and meet" Community Development Minister Coralee Oakes "requesting that the province undertake a study on regional governance" based on 10 guidelines headed "Capital Region Amalgamation Study."
The guidelines include: the study team must report to the Minister of Community Development in a timely manner, must include all municipal agencies and First Nations in the Capital Region, "recommend changes to achieve good municipal governance across the region" and include more than one option for municipal boundaries. The complete guidelines are available on the City of Victoria website.
Voters in North Saanich and Sidney supported an amalgamation study – and Central Saanich supported a cost-benefit analysis – but restricted to the three peninsula municipalities – and only for the province to fund the study. Saanich voters supported a "governance review" (the word "amalgamation" was not mentioned) by Saanich – specifically, "Do you support Council initiating a community-based review of the governance structure and policies within Saanich and our partnerships within the Region?" Council is waiting for a staff report before starting its governance review.
North Saanich Mayor Alice Finall told SVO that there was "some willingness" between North Saanich and Central Saanich "to pursue a joint effort to obtain funding from the province for this study (to be done by the municipalities)." She expected individual peninsula municipal councils "will make their own decisions as to how each will proceed."
Elsewhere in the region – voters in Victoria and Langford (by 1 percent, or 13 votes) were for amalgamation; Esquimalt voted in favour of exploring it; Oak Bay was against; and View Royal, Colwood, Metchosin, Highlands, and Sooke did not hold votes.
At the provincial level, Community Development Minister Coralee Oakes said before the election, "For those communities who are interested in continuing to examine governance structures, following the election results I will make ministry staff available to provide necessary resources and support."
After the election, Oakes posted a statement on Nov. 17, 2014, on the Community Development Ministry website which included the comment, "I remain committed to provide the support and resources required by the newly-elected local governments, once they have had an opportunity to discuss and review the results in greater detail."  
Also on Nov. 17, 2014, she told reporters  (Victoria Times Colonist, Nov. 18, 2014), "We will be doing a governance study. It's going to be hard work. It's going to be complex. It's going to be very, very difficult, but we're committed to doing that." 
Under BC legislation, amalgamation requires affirmative public votes within the affected municipalities and cannot be forced.  
Further to this article:
SVO asked the ministry if it would go on record confirming or denying Coralee Oakes, Minister of Community, Sport and Cultural Development's apparent statement to the Times Colonist on Nov 17, 2014, that it "will be doing a governance study."  This is the response that SVO received:
"The ministry is in the process of considering how best to proceed.  As the referenda questions were quite mixed, it is important for citizens that governments think broadly about governance and services in the region.

Knowing what conversations are occurring in the community and among local governments is an important part of these considerations.

Decisions about potential next steps in terms of a study will come out of the Province's considerations and future discussions between local governments and the Province."
UPDATE – March 11, 2015
SIDNEY SAYS NO TO TRI-COUNCIL PARTICIPATION ON AMALGAMATION STUDY FUNDING REQUEST
A decision by Sidney council – by a single vote – on the subject of a study of amalgamation of the three peninsula municipalities has resulted in some confusion over the issue.
The minutes of Sidney council's decision on Feb. 23, arising from an earlier tri-council meeting recommending creation of a committee to secure funding from the BC government for an amalgamation study, resulted in this 4-to-3 decision by council – "that Council deny Sidney's participation in the creation of a Mayors Task Force and deny Sidney's mayor participating in approaching Minister (of Community Development) Coralee Oakes with regards to funding and setting out a plan of study." The motion was supported by Mayor Steve Price and Couns. Tim Chad, Mervyn Lougher-Goodey and Cam McLellan. Opposed were Couns. Erin Bremner, Barbara Fallot and Peter Wainwright.
Mayor Price told Saanich Voice Online in a statement that his council's decision "is being taken out of context and council fully supports our residents' request for an amalgamation study being conducted by the Province and looks forward to the Minister's review of good governance in the capital region.
"The majority of council simply resolved to deny North Saanich's request to form a Mayor's Task force and that we weren't prepared to approach Minister Oakes with respect to advising them how to go about their study – that's up to the Province to determine and we can then comment once they're developed their Terms of Reference, which was made perfectly clear to all at the tri-municipal meeting."
Last November, Sidney residents voted "Yes" (2,566 to 1,232) in a non-binding referendum to this question, "Are you in favour of a provincially funded study to investigate the feasibility, costs and implications of amalgamating the three municipalities of the Saanich peninsula?"
Mayor Price's comments left Central Saanich Mayor Ryan Windsor saying there was no suggested "task force" but rather that the three peninsula mayors should meet Oakes following the referendums last November. His commitment remained what voters in Central Saanich approved (3,588 to 1,489), "Should the District of Central Saanich petition the Province to fund a cost/benefit analysis of an amalgamation of Central Saanich, North Saanich and Sidney."
He said Sidney council's decision "leaves a lot of room for speculation" and he found it "bizarre" that Sidney did not want to approach Oakes with Central Saanich and North Saanich. "If Sidney wants to exclude themselves . .  it seems an odd move." The next step should be for the three mayors to meet Oakes and not wait for the province, said Windsor.
Mayor Alice Finall of North Saanich has not been available for comment.
The next meetings of Central Saanich and North Saanich councils are on March 16.
                                                               -30- 
UPDATE – March 12, 2015
MINISTER CORALEE OAKES SPEAKS TO A PRIVATE AUDIENCE ON AMALGAMATION/GOVERNANCE
Community Development Minister Coralee Oakes says the provincial government has put money aside for a study of amalgamation/governance in Greater Victoria.
But she stressed at a breakfast meeting on March 10 of the Victoria-Swan Lake BC Liberal Association that she cannot dictate what the study will look like and she needs to hear from local governments – specifically mentioning she has only heard from the City of Victoria (see lead post). Oakes spoke and answered questions for 36 minutes. Here is an audio file of that presentation, posted this week on the Amalgamation Yes website.
https://soundcloud.com/user776628093/coralee-oakes-minister-of?utm_source=soundcloud&utm_campaign=share&utm_medium=email
                                                                           -30-
March 15, 2015
FURTHER AMALGAMATION UPDATES
Progress on studying the possible amalgamation of the three Saanich Peninsula municipalities has, effectively, stalled for now. Here are the positions of the three municipal councils, in their words, as shown in recently posted minutes:
NORTH SAANICH – Council said the mayors of North Saanich and Central Saanich should approach Community Development Minister Coralee Oakes "with regard to funding and setting out terms of an amalgamation study."
SIDNEY – Council voted to "deny Sidney's participation in the creation of a Mayor's Task Force and deny Sidney's Mayor participating in approaching Minister Coralee Oakes with regards to funding and setting out a plan of study." Mayor Steve Price added in his letter to the other councils – "Council supports our residents request for an amalgamation study and looks forward to the Minister's review of good governance in the capital region."
CENTRAL SAANICH – Council decided, "That the matter of the amalgamation study be referred to a future committee discussion regarding the parameters of the study."
                                                                  -30-
More updates to follow