It's not easy to pin NDP electoral candidate Gary Holman down for a chat; he's a very busy, serious, private man. Though he doesn't talk much about his personal life, there's much to be learned about him through his ideals and the kind of projects he chooses to pursue.
Read the rest of this entry »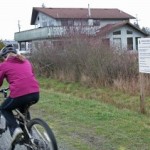 A proposed 40 unit development at 9395 East Saanich Rd is currently the centre of controversy in the deeply divided community of North Saanich. Those supporting the development are accused of desecrating the rural landscape with Langford-style sprawl, while those opposed are labelled 'anti-development elitists'.
Read the rest of this entry »
Graduate students from UVic are out in the community gathering information and stories about the Brentwood Bay area. They want to know what the community envisions in ten years and what services, businesses, community groups, events and activities would enhance their community.
Read the rest of this entry »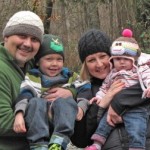 Local businessman, Green Party electoral candidate Adam Olsen isn't sheepish about promoting his family's business, Salish Fusion Knitting.
Read the rest of this entry »
It's official! French Immersion is on the rise in BC according to Canadian Parents for French, and families in Saanich are fortunate to have schools that give kids the necessary tools for success in a bilingual Canada and 45 other francophone countries.
Read the rest of this entry »
In 1971 John Lennon and Yoko Ono noted the passing of the old year into the new with the simple musical question, "… And what have you done?" On its second anniversary, it also seems natural to look back at some of Saanich Voice Online's stories and ask, "What next?"
Read the rest of this entry »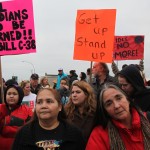 On a cold January morning, the usual roar of traffic from the Pat Bay highway became eerily quiet, as the sound of drums filled the frosty air. Marching forth from Tsawout band offices, native and non-native alike, carried signs protesting the evisceration of people's rights by the current lawmakers in seats of power.
Read the rest of this entry »
Although no carousing was evident at the 10th annual Robbie Burns Supper - as the Bard is reputed to have enjoyed - the four hundred plus guests had no trouble imbibing the plentiful food and drink that this occasion is famous for.
Read the rest of this entry »
Beacon Community Services, in conjunction with the Peninsula News Review, are sponsoring the 15th annual Hearts of the Community Volunteer Awards 2013. The awards are intended to honour the work of Saanich Peninsula Volunteers, based on nominations from the community.
Read the rest of this entry »
After over four years of sitting idle, the old Home Hardware site on Keating Cross Road became a hive of activity on Monday January 7th - marking the first opening day for Slegg Lumber.
Read the rest of this entry »