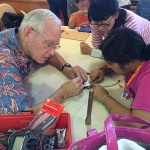 A small group of Saanichites are adding Repair as the fourth R of the Environment
The traditional three R's of the environment are reduce, reuse/re-purpose, and recycle. A small group of enthusiastic citizens are planning to add another R to that list – repair.
This Fall Repair Café Saanich will be added to the growing list of Repair Cafés happening throughout the world. The morning repair workshop is part of a movement that sees neighbours working together in new ways. The idea is to connect people that are able to make small repairs of household items with people that have items that need to be repaired. They broken item owner can either learn how to make the repair, or have it done for them.
"The idea is nothing new," says one of the Saanich event organizers Marsha Henderson, "Repair Cafés began in Amsterdam in 2010, and have been gaining in popularity ever since. Victoria has just had their third successful event. What is new is that it's happening in Saanich," she adds.
The small team of organizers includes Henderson, Saanich farmer Shellie MacDonald, Saanich small business owner Michele Murphy, and Colwood resident, and experienced Repair Café volunteer repairer, Emmet McCusker. "A few of us were talking online about going downtown to the Repair Café Victoria's Spring event when I suggested that Saanich needs one of their own. Marsha immediately said yes, and before we knew it we were meeting in my garden over the complete do-it-yourself kit that Emmet had downloaded from the RepairCafe.org website," recalls Murphy.
The group's vision for the project is pretty simple, "We want to connect with our neighbours over shared values and experiences, keep stuff out of the landfill, and teach each other new skills," explains Henderson. "I contacted Saanich asking for a free space and they were really supportive," she adds.
The first event will take place on Oct. 17th from 10:30-1:30 pm at the Saanich Commonwealth Place in the Douglas Fir Room.
Organizers would like to have as many talented volunteer repairers on hand as possible to work on whatever broken household items people might bring in. Using Victoria's recent event as an indicator, they are expecting to see a lot of small appliances, maybe some toys or small furniture that could use a spot of glue, maybe a bicycle or two, lamps in need of re-wiring, and maybe even a teddy bear needing a patch.
The repairs are done free of charge. Tools and some materials will also be on hand. Donations for, or of supplies are gratefully accepted. People are asked to email the organizers to let them know what kind of repairs you'll be bringing, but drop-ins are welcome too.
If you are able to volunteer your talents as a repairer, or are willing to help out another way – or have something that needs repairing – please email the organizers at: Saanich RepairCafe@gmail.com
Saanich Repair Café organizers will be presenting at the Wednesday October 7th RON Talks, 7 pm at Crumbsies Café in Royal Oak. See their Facebook page for updates.