by Roger Stonebanks, citizen journalist
Haji Charania, long-time president of the North Quadra Community Association and also chairperson of the Saanich Board of Variance, is among 30 recipients of the BC Community Achievement Awards.
 The BC Achievement Foundation said Charania "is recognized as a key person in his community. For close to 45 years he has worked tirelessly to improve the quality of life in Saanich by co-founding what is now known as the North Quadra Community Association which influences many municipal improvements and through volunteering extensively in his community. His consistent leadership demonstrates his passion and commitment to those he serves."
The recipients of the 2016 awards will be recognized at a formal presentation ceremony at Government House on May 25. They will receive a certificate and a medallion designed by artist Robert Davidson.
-30-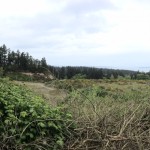 by Roger Stonebanks, citizen journalist
Aragon Properties has scaled back its proposal for housing in the former Trio quarry and industrial site at Cordova Bay Road/Fowler Road/Alderley Road by one-quarter from its initial plan in 2015.
The revised proposal calls for 330 dwelling units compared with 385 previously and 440 initially. The latest reduction has resulted from the elimination of six-storey condos in a redesign of the north end of the property in favour of single-family homes.
David Roppel, director of planning and development for Aragon Properties, told Saanich Voice Online (SVO) the changes are in response to input from the community and Saanich.
"The (revised) plan is with the District (of Saanich) for comment and we are continuing to work closely with Cordova Bay community groups to get input," he said.
Still being worked on with Saanich is the matter of insufficient downstream sewerage capacity for the proposal. Any downstream sewerage upgrades will be at Aragon's expense – Saanich has said it made Aragon aware of sewerage flow limitation before it bought the property. The property is within the Sewer Service Area and within the Urban Containment Boundary.
Contacted by SVO, the Cordova Bay Association for Community Affairs said in a statement it does not support the development "as currently presented."
The community group spelled out several reasons for its opposition that are to do with road safety.
As for the  overall densification of the project, criticized earlier by the CBA, "the CBA it will not comment until such time as a fully comprehensive traffic study/assessment has been conducted to demonstrate conclusively that traffic usage of the neighbouring road network is sustainable beyond the build-out period, regardless of development size."
The CBA acknowledged that the revised plan is a partial submission and further work is to be done and it remains concerned about other issues it raised earlier. The group said it "is committed to ensuring a community-wide acceptable residential development of the former Trio lands by Aragon Properties Ltd."

by Michele Murphy
Last month's NDP national convention held in Edmonton made headlines in mainstream media outlets right across the country. Many outlets spoke of radical shifts in party ideology, an internal crisis, or conflict. One would think that the catalyst for such a response was the adoption of a major policy that marked a radical change in direction for the party.
In reality the impetus of the outpouring of shock and awe was the discussing, and passing, of a resolution that simply asks for ongoing debate. That's it – debate.
As predicted the decidedly progressive paper entitled The Leap Manifesto was a hot topic at the Alberta-hosted convention. While more than a few local riding associations came to wild rose country with resolutions in hand calling for the manifesto's full adoption by the party, it was in fact a rather mild-mannered resolution that made it to, and passed on, the convention floor.
The adopted NDP resolution 2-05-16 asks that:
"the New Democratic Party looks forward to meaningful opportunity to debate the Leap Manifesto in riding associations across the country;
BE IT FURTHER RESOLVED THAT these discussions be part of a pre-convention policy process leading up to 2018."
Let's talk about it – that's all.
What is The Leap Manifesto? Simply, it's a short political document co-written by bestselling author Naomi Klein, her husband Avi Lewis, doc-filmmaker and son of Stephen Lewis, and a host of Indigenous rights, social and food justice, environmental, faith-based and labour movement people. The non-partisan initiative asks that Canada step up its actions to combat climate change and inequality by moving from small steps – to leaps.
To date it has been endorsed by more than 39,600 Canadians, including a who's who list of environmental, First Nations, social and labour movement people and organizations.
"The time for this great transition is short. Climate scientists have told us this is the decade to take decisive action to prevent catastrophic global warming. That means small steps will no longer suffice. So we need to leap."
~Sept. 15, 2015, declaration of The Leap Manifesto.
Is it radical? Saanich-Gulf Islands MP and Green Party leader Elizabeth May says, "No, not radical." She says that much of the manifesto is already Green Party policy although the carbon tax being revenue neutral is an area on which Greens and The Leap Manifesto disagree.
So can South Vancouver Islanders look forward to hosted discussions around The Leap Manifesto? It's unclear at this time. The president of the NDP Victoria Riding Association, James Coccola, says that they intend to put the policy on the back burner in his riding until after the provincial election in 2017.
"We have two years for discussion around the manifesto, so we're not in any particular hurry at this time," explains Coccola. He adds, "We want to make sure that people are giving the 2017 provincial election their full attention and aren't distracted by federal policy discussions."
May said, "The Green Party will be doing community engagement this year around proportional representation, climate action and the TPP – and not Leap." That said, she added that it would likely be a significant conversation at their convention in Ottawa this summer.
Political parties aside, if The Leap Manifesto sounds like it is in line with your vision for the future, go to their website, read through it, join the thousands of Canadians that have signed the initiative already and check out the events and action that are being planned – or plan one yourself.
The Leap initiative invites you to organize a discussion in your living room or a town hall, host a speaker, or panel discussion – organize a screening of the movie This Changes Everything.
If you decide to organize around The Leap Manifesto, or you're even thinking about it – be in touch. Saanich Voice Online may be interested in helping you promote your event.

-30-
More on The Leap Manifesto:
From The Guardian:
Surprise, the pundits were wrong: poll shows huge support for Leap Manifesto
Canadians across the political spectrum want a bold challenge to the status quo—and it's up to the NDP to provide it
ROBERT BISH is professor emeritus at the School of Public Administration, University of Victoria, and a leading academic on the subject of local government and local governance. He was the lead author of the recently-published paper "Governing Greater Victoria: The Role of Elected Officials and Shared Services" (Fraser Institute) –
Here he answers some questions from Saanich Voice Online about a subject that is rarely out of the news in Greater Victoria.
Would you summarize for us the recent report in which you were the lead author – Governing Greater Victoria: The Role of Elected Officials and Shared Services ("B.C.'s unique model of local government makes amalgamation unnecessary")?
The referenda that were included in the fall 2014 municipal elections where voters were asked their views on governance and possible reductions in the number of municipalities pretty much ignored the role that the Capital Regional District and other sub-regional and regional governments play in Greater Victoria.  Professor Jim McDavid, Brian Walisser and I decided that a monograph describing how local government services were governed in Greater Victoria under British Columbia's unique regional district was necessary so residents and councillors had the knowledge to discuss the issue of amalgamation seriously. The study provides that description and an explanation as to why the governance and production of local services has evolved the way it has. We thought it important to include Elected Officials in the title because it is only in BC that the municipally elected officials make up the committees, boards and commissions that govern all local services at the municipal, sub-regional and regional levels. This has facilitated greater sharing and integration of local services at the sub-regional and regional level that appears to have happened in any other metropolitan area that has been studied. Within the report only about 8 pages are devoted to amalgamation directly, and those are placed into the context of how the existing system works—not posed as some alternative exhibiting a religious-like faith in large bureaucracies.

The basic issues we are dealing with: representation, adjustment to geographic scale, production efficiency and financing all pose problems because of the diversity in local government services and the diversity of communities in Greater Victoria. Neither small governments nor regional governments with large bureaucracies can accommodate all of these problems easily. What a regional district does is provide a forum whereby smaller governments can move the governance and administration of services to the sub-regional or regional level as is appropriate for any particular activity. Within Greater Victoria over 30 municipal activities have been moved to the regional district through this process. Our examination indicates that the system has worked well to get activities where there are interdependencies and economies of scale governed at appropriate levels. It is not perfect but the results of 50 years of evolution are very good. We do have recommendations for improvements, but they fit within and are intended to improve the existing system. They do not entail radical change.
It seems counter-intuitive to favour multi-municipalities rather than a single authority. How do you answer that counter-intuition?
I will offer an answer and then point to a real problem with arguments for amalgamations. Based on the fact that local services have different characteristics (some capital intensive and some labour intensive), not all services can be provided responsively and efficiently by large governments with large bureaucracies. There is lots of research that indicates that large organizations tend to be less responsive to different neighbourhoods within large cities and that many of their services cost more to produce because there are diseconomies of scale, especially for labor-intensive face-to-face services like police patrol. These arguments based on an understanding of production and empirical evidence; however, do not seem to change the minds of those who have no comprehension of how coordination can occur without someone in charge can work to achieve both local political control and regional service efficiencies. What we see again and again is a belief (really a faith) that somehow one government and corresponding large organizations will be better. At some point, evidence does matter and communities that have been amalgamated can provide us with opportunities to see whether amalgamations, once we look at the actual costs and actual benefits, make sense to taxpayers.
Does democracy decline for residents if, for example, this region had an amalgamated city (rather than 13 municipalities) with eight councillors and one mayor?
With any simple approach the answer is yes, but if we look at the issue of representation for residents we recognize that the issues faced range from community to regional (and even larger). And as governments get larger the elected officials will tend to focus only on broad policy issues leaving a lot of decisions up to employees. We describe what a district-based electoral system for Greater Victoria would look like with a council of 11, the maximum size permitted in B.C. legislation. The problem is to have representation that can act at the scale of the issues. For example North Saanich, Sidney and most of Central Saanich would be entitled to one representative on a council of 11, while currently each has a council of 7. Each municipality has different issues and each has a reasonably full agenda for their community. At the same time each is represented on the commission that governs the Panorama Recreation Centre but that commission does not need all 21 members as a couple from each municipality will provide appropriate representation for sub-regional activities. Likewise, a single councillor represents each municipality on the CRD Board. Thus the regional district system has the capacity to adjust representation for governance from the bottom up. Being from the bottom up also means that campaigning for office is inexpensive and does not require collecting campaign funds from special interests. This highly representative system costs less than one-half of one percent of local government expenditures.

There is a problem with this system, however, in that it is heavily biased to local communities and may not always provide appropriate representation on truly regional issues where there may be differences among the municipalities and some may not benefit from a regional decision. Looking more closely at how to increase responsiveness on regional issues is one of the recommendations contained in our report.
Does the public get misled (however inadvertently) by the media which concentrates its focus on problems/negatives rather than solutions/positives?
Problems and disputes are always going to get more attention than the over thirty CRD activities that run very well and for the most part are out of sight to both the media and to citizens who may not even realize their local service is coming from the CRD and not directly from their municipality. I do not think that reduces the opportunities to seek solutions to problem areas. When solutions are proposed, however, all of the existing services that work well need to be recognized so a proposed solution does not have overall adverse consequences. This is why having a better understanding of how governance in greater Victoria really works is essential background for understanding how problems arise and what solutions are likely to work without creating adverse effects. We cannot expect every reader to understand this. We do depend, however, on journalists and editorial writers to understand the system well enough to put problems in context and be aware when proposed solutions will have adverse effects—without expecting articles that are so long readers quit reading part way through. In some respects, we do not expect that Governing Greater Victoria will be read by many citizens. We do hope, however, it is read by enough journalists and editorial writers to raise the level of discussions about local governance and amalgamation compared to that discussion in the past. We also wrote it to be sure councillors and others in decision-making positions have a fuller understanding of the system they work within because it is not only an unusual one; it is unique in North America.

-30-
UPDATE  – Regional Governance Presentation
The governance committee of the Capital Regional District will host a presentation on Wednesday by Dr. Robert Bish, lead author of the recent report "Governing Greater Victoria: The Role of Elected Officials and Shared Services" (Fraser Institute) – (meeting agenda)
Dr. Bish will appear via teleconference with Dr. Jim McDavid and Brian Walisser attending in person to take part in the presentation and discussion. Both men assisted with the report.
 Here is a link to Dr. Bish's UVic background – and Dr. McDavid's background. Walisser retired from the provincial government's Local Government Department in 2010 after serving for many years as executive director, policy and research.
UPDATE  – Regional Governance Presentation Podcast
HERE is the link for those interested in watching/listening to the podcast of the Capital Regional District's hosted presentation by Dr. Robert Bish.
FURTHER UPDATE
 The next meeting of the Saanich governance committee will be on Wednesday May 11 – here is the agenda posted on the Saanich website — http://www.saanich.ca/living/mayor/boards/pdf/2016/GRCAC/2016-05-11-governance-review-agenda.pdf
-30-
NEXT MONTH'S SVO will look at Dr. Bish's four recommendations for the Capital Region.
by Roger Stonebanks, citizen journalist
Amalgamation is on the agenda (found HERE) for the meeting on Wednesday (April 27) of the Saanich Governance Review Citizen Advisory Committee.
The agenda item, under the heading "Next Meeting Items" (the next meeting after Wednesday will be Wednesday May 11), is "Invitation to "Amalgamation Yes" " – the lobby group Capital Region Municipal Amalgamation Society.
 Another agenda item for the governance committee's third meeting is a presentation/discussion from one of its members, Caleb Horn, who wrote an undergrad thesis in 2014 entitled "Consolidation and Fragmentation: Regional Governance in Greater Victoria" (found HERE)
Saanich voters agreed in a non-binding referendum in November 2014 to this question: "Do you support Council initiating a community-based review of the governance structure and policies within Saanich and our partnerships within the Region?"
Committee chairperson John Schmuck was asked by Saanich Voice Online on Sunday (April 24) for comment on the two agenda items –  specifically if Amalgamation Yes is to make a presentation or to participate in the committee. Noting that Caleb Horn is to make a presentation this Wednesday, Schmuck was asked, "Do you contemplate inviting others – academics who have written over the years – such as Dr. Robert Bish."
Schmuck replied, "Nothing official yet re Amalgamation Yes being invited. Depends on the group to have them." As to others being invited, he said "We hope to hear from as many viewpoints as possible. At this point we're still in our early stages of any deliberations or studies."
He added: "The group has already looked at the Fraser Institute study done by Dr. Robert Bish ["Governing Greater Victoria: The Role of Elected Officials and Shared Services"]. In our first meeting it was mentioned that alternative viewpoints to this study should be heard and thus came the idea of inviting Amalgamation Yes to explain their views. At this point no invitation has been issued and it is on our next agenda only for the committee to discuss further as whether to invite them."
Schmuck, the former president of the Quadra Cedar Hill Community Association, was elected Chair of the governance committee by acclamation at its last meeting. Art Beck, treasurer of the Quadra Cedar Hill Community Association, was elected Vice Chair. Schmuck continues as Chair of the Saanich Community Association Network (SCAN).
Here is an earlier SVO story – "Saanich Starts Its Own Governance Review"
UPDATE
At the committee meeting on April 27, it was decided by consensus not to invite Amalgamation Yes (AY) to make a presentation to the committee "at this time." Several committee members said they were willing to invite AY but not for the following meeting on May 11. One of them qualified his comment by adding "20 minutes, that's it."
The meeting attracted six members of the general public – four executive board members of AY, Colin Nielsen, Sandie Menzies, Lesley Ewing and Karen Harper; Esquimalt Coun. Beth Burton-Krahn (who is a Saanich property owner); and Roger Stonebanks from Saanich Voice Online.
The main items discussed at the meeting were the on-going draft request for proposals for a consultant to work with the committee (to be further considered at the next meeting on May 11) and a presentation by committee member, Caleb Horn, based on his UVic paper "Consolidation and Fragmentation: Regional Governance in Greater Victoria" —
                                                                              -30- 
Two members of the Quadra Cedar Hill Community Association(QCHCA) were chosen Chair and Vice Chair of the 13-member Saanich Governance Review Citizens Advisory Committee at its second meeting on April 14.
John Schmuck, elected committee chair, was president of the Quadra Cedar Hill group for five years until the Annual General Meeting last month. He continues as Chair of the Saanich Community Association Network (SCAN). Schmuck was nominated by Art Beck and elected by acclamation. Beck was elected committee vice chair also by acclamation. He continues as treasurer of Quadra Cedar Hill.
The next meetings of the advisory committee will be on April 27, May 11 and May 25. All meetings are open to the public and agendas and minutes will be posted on the Saanich website under committees and boards.
See earlier Saanich Voice Online story HERE.
                                                                -30-
by Roger Stonebanks, citizen journalist
Quietly, Saanich has begun its own governance review.
Saanich Voice Online (SVO) found THIS on the Saanich website and scroll to Governance Review Committee. The 13 members of the Saanich Governance Review Citizens Advisory Committee were appointed by council on Feb. 2 (when there was a 31-minute closed council meeting, according to the posted minutes, which provide no details) and, it appears, no formal announcement was subsequently made.
The 13 members are Manjit Bains, Arthur Beck, Joseph Calenda, Matthew Gauk, Zig Hancyk, Caleb Horn, Philip Lancaster, Karen Mactaggart, Andrew Medd, John Schmuck, Jim Schneider and Brian Wilkes. Council also appointed two alternates – Julian Anderson and Fiona Morgan.
An initial committee meeting was held on March 30, according to the posted meeting notice, at which a Chair and Vice Chair were to be selected. The agenda for the March 30 meeting can be seen HERE.
Saanich's new Chief Administrative Officer Paul Thorkelsson told SVO he believed the committee deferred the election of a Chair and Vice Chair to a subsequent meeting.
He said the minutes of committee meetings will be posted when they are adopted by the committee at the following meeting – in this case, the second committee meeting is scheduled for Thursday April 14 at 7pm in the Kirby Room (Saanich police/fire building). The agenda is also to be posted on the Saanich website (under Committees and Boards).
The tentative schedule for meetings beyond April 14 is – Wednesday April 27, Wednesday May 11 and Wednesday May 25, all at 7pm.
At the 2014 municipal election, Saanich voters approved this question: "Do you support council initiating a community-based review of the governance structure and policies within Saanich and our partnerships within the region?"
Last October, council decided to advertise for 13 persons to serve on the governance review committee. Potential committee members were to be recommended by a Focus Group comprised of representatives of the Saanich advisory committees and two members of the Saanich Community Association Network.
The plan for the governance committee was drawn up in a report from CitySpaces Consulting. The review is expected to last about 18 months. The committee will meet residents, stakeholder groups, Saanich staff and committees, the Capital Regional District and other municipalities.
Committee agendas and minutes are to be posted on the Saanich website. All meetings are open to the public.
The terms of reference of the committee, as posted by Saanich, are:
Purpose and Terms of Reference
The principal purpose of the Governance Review Citizens Advisory Committee is to provide input and guidance to staff, consultants, and Council regarding public and stakeholder engagement during the Governance Review. A secondary purpose will be to offer comments on educational materials, consultation synopsis, and report recommendations, based on members knowledge and expertise.
Specifically, the Committee will undertake the following activities:
Provide input and guidance on educational and communications methods; review and comment on communications materials prepared by the consultant;
Provide input and guidance on engagement methods; review and comment on plans for selected engagement activities; and participate in engagement activities;
Provide input and guidance on educational materials prepared by the consultant;
Provide input and comment on the synopsis of community input prepared by the consultant;
Discuss preferred recommendations; and
Review and comment on report (recommendations) prepared by the consultant.
                                                     -30-
by Michele Murphy
"I was born to love animals I guess," says Sidney's Cheryl McBride. "My mother loved animals, and so I did. I have yet to meet a dog that I don't like." She speaks fondly of Bomber the Beagle from her childhood.
McBride also loves painting, and is passionate about typography, so it shouldn't come as a surprise that eventually these three worlds would converge, creating McBride's expressive, tender dog paintings – complete with words.
The daughter of an Eaton's career man, McBride calls herself a prairie girl. They lived in Moose Jaw, Medicine Hat, Winnipeg and even Thunder Bay at one time or another. It was at the University of Saskatoon that she began her schooling in fine arts. She later switched her focus to graphic arts thinking that it would increase her chances of making a living in the arts. She earned her degree at the University of Winnipeg, and began a career in graphic arts at Eaton's – a design career that would span 25 years and bring her to the Island, and eventually Sidney.
McBride worked in local print and design shops – Manning Press, Silk Questo, the Malahat
Group and finally Suburbia Studios as their production manager, before retiring in 2013.
Throughout her career McBride continued to paint, some years more than others. Her love of expressing herself through acrylic on canvas never waned. But it was just ten years ago that the idea of painting her canine friends came to her. Inspired by her "particularly handsome" Siberian Husky named Sundance, and Rio, her ever-so-adorable Westie, her new path began.
McBride started with small-format paintings for friends, and after a visit with friends back on the prairies – that included a rather extensive collection of photographs of their whippet and Husky cross – McBride began incorporate words into her work. Her love of dogs, painting, and typography had converged.
As a designer McBride says that she's passionate about working shapes, form and colour into her work through type. "Because I'm handwriting the words, I don't go crazy with the lettering, but I do pay special attention to font style, layout, whether to use a serif or non-serif font, or caps," says McBride.
When she's not creating dog paintings, she works with landscapes and abstracts, or can be found in her garden with her husband Lloyd, or walking Rio, or playing with her two young grandsons. She also spends some of her days volunteering at the
local Humane Society, because she just loves dogs.
McBride isn't sure where the dog paintings will lead. She says that she's happy to do it as long
as the passion exists, and would be thrilled it there's interest from buyers.
Contact Cheryl by email if you're interested at toothandnail@shaw.ca. She'd really love to meet your dog.
by Roger Stonebanks, citizen journalist
The BC government has advertised for a consultant to look at municipal governance in the Capital Region which it calls "a high profile issue."
The advertisement is for what it called "the Initiative" – or more fully, "Capital Integrated Services and Governance Initiative." It was placed on BC Bid website on March 23 with a deadline for submissions of April 15.
The Ministry of Community, Sport and Cultural Development said the results of non-binding referendums in November 2014 and meetings of local government leaders with ministers have shown "a common interest in gathering facts about current service delivery, increasing understanding about service delivery, best practices and exploring further the opportunities to better integrate service and governance (the Initiative)."
The ministry uses the phrase "service and governance integration" but not the word "amalgamation." The province has made it clear in past statements that it will not impose a merger of municipalities and, indeed, the Community Charter requires that municipalities must obtain "yes" votes from their residents for any specific merger.
"The proposed Initiative will help facilitate fact-finding and discussion among local governments in the Capital Region to inform opportunities towards the efficient delivery of service that citizens need," the ministry stated in its call for a consultant.
"The Initiative will provide the opportunity for differing perspectives to be heard and may well lay the groundwork for more specific solutions local governments may wish to pursue towards greater integration of services and governance."
Both the present Community Minister, Peter Fassbender, and the previous minister, Coralee Oakes, were given a written "mandate" by Premier Clark to "Develop and present options to Cabinet on potential processes under which local governments could either amalgamate or integrate service delivery by June 30, 2016." That deadline will not be met given that the deadline for consultant proposals to be received is April 15. The findings of any consultant process are not expected until the fall of 2016.
The ministry set out what the consultant or firm is to do:
– Work collaboratively with local governments to collect information on current services and governance arrangements in the Capital Region;
– Facilitate discussion in various forms within and among local governments and with stakeholders to help them identify underlying issues, barriers and opportunities "towards service and governance integration";
– Provide examples from other jurisdictions and other public bodies which achieved service efficiencies;
– Provide information/facts about services and governance in the Capital Region and the findings from the Initiative in an accessible format that could be used by local governments to increase citizen understanding of local governments.
Fassbender commented that, "The Initiative will provide an opportunity for Capital area local governments to respond to the continued interest in the effective delivery of services and governance in the region. This fact-finding and information sharing exercise is an important first step to assist citizens to better understand the perspectives of the region's local governments respecting current service delivery arrangements and any opportunities for future integration. It will also assist local governments to further their conversations and engagement with citizens and organizations."
Saanich Voice Online has asked the local mayors for their reaction. Any comments received by SVO will be posted online for your information.
For previous news stories on amalgamation or governance go HERE
by Sue Stroud
On March 19, 2016 the community lost a powerful, passionate voice when Carole Pearson died from cancer. Saanich Voice Online co-contributor, co-activist, neighbour and friend Sue Stroud offers this story on the occasion of Carole's passing.

Carole Pearson was an active, engaged citizen of Central Saanich having lived here for the past 15 years. She loved being part of the community, joining in all the annual activities of the Saanichton Village Assoc. and the Saanich Pioneer Society and their museum. She was a member of the Residents and Ratepayers of Central Saanich Society and took great interest in municipal affairs.
Like so many, Carole loved and wanted to preserve the mellow nature of the Central Saanich countryside. She attended the all-candidates' meetings and had a devastating analysis of the would-be councillors and mayors. Her grasp of what people were really about was wonderful. Her advice was useful and her support appreciated each time I ran. She didn't mind listening to the same speech being rehearsed and revised and didn't hesitate to remind me when to breathe.
Carole was hit by a car one rainy night and was laid up at home for several months. A group of us who met regularly at Spelt's Coffee on Fridays nights to discuss politics showed up one evening at her house with seven or eight different kinds of chocolate, wine and flowers. We sat on and around her bed laughing and enjoying her company for several hours.
Carole was quiet and soft spoken in a crowd, but with a wittiness that could slay you. I watched her sit through a whole evening with women chatting about their lives and the places they'd been, hardly saying a word herself, but enjoying all the stories and discussions going on around her. Later she could recount the complete conversations offering empathy for each who had spoken.
A few years back Carole took me to a rehearsal for The Corporate Golden Piggy Awards, an annual community 'celebration' of those in government and industry who place their own welfare far above that of the public they serve. The skits were simple and very funny, the props were homemade and ingenious. Carole clearly enjoyed being part of this troupe and we laughed about both the skits and the characters as we drove home that evening.
It was her empathetic nature that coloured the articles she wrote on issues like the fires at BC sawmills ("What Did Not Have To Be – The B.C. Sawmill Tragedies," Our Times Magazine, June 2015) and her love of anything small and quaint and sound that inspired cob houses: "Bilbo Baggins never had it so good," Globe and Mail, September 2000. She loved to tell stories and writing was a great way to convey the things she cared about.
Carole was a traveller. She loved to venture to distant lands. It was in fact on a trip to Eastern Europe last fall that she became ill and entered hospital at Krakow. Carole said that she was well cared for by the hospital, the Canadian Embassy and a travel insurance company out of Richmond BC called TuGo which sent a very able nurse to act as her advocate and bring her home to us.
Carole's gone now after a few weeks in hospice and it feels odd not to chat with her every night on Facebook or call her up and head out to the pub.
What I'll remember most is just sitting and sipping ciders on a hot summer day, watching the birds flitting around her yard or the yard at the Six Mile Pub. It was peaceful, it was pleasant, it was Carole.
Farewell Carole, you'll always be remembered with a smile, Sue.
---
From Lorraine Endicott, the Our Times editor:
OUR TIMES SAYS GOODBYE TO WEST COAST WRITER, CAROLE PEARSON:
For 15 years Carole wrote one excellent feature story after another for us, always with great care for the craft of writing, and with deep care for workers and their lives. She wrote her first story for Our Times in 1999, about chocolate factory workers organizing in B.C. ("How Sweet It Is!"). Last year she penned: "What Did Not Have to Be," about the BC sawmill explosions; and "Growing Older, Growing Bolder," about seniors organizing. We, and Canada's labour movement, are really going to miss her.
Carole wrote to Our Times' publisher during her last days, saying, "I wish you and Our Times all the best in the future. The magazine is an important voice for workers, who are often viewed as expendable [by] a media that focuses on corporate profits and takeovers and the management side of things."
With Carole's blessing, Our Times is setting aside funds in her memory for emerging young writers who, like Carole, want to make a difference in the world by writing about issues of concern to working people.
Please read, respond to, and share the poster: http://tinyurl.com/hyb76pa. Here are the ways you can donate: http://tinyurl.com/jnpdvyt.
Thank you, Carole, from all of us at Our Times.